---
$25.00
Diaper genie elite, cleaned and very well condition only used a handful of times no longer needed. Comes in original box
$10.00
New, custom-made, one-of-a kind, soft, terrycloth bath towel and washcloth set and hand towels. Bath towel measures 27 inches by 50 inches (58cm X 127 cm). 100% cotton.White with yellow chevron ...
$10.00
Assorted absorbent, flannelette and terrycloth burp cloths and change pads. Completely washable. Custom made. $10.00 for each set or all three sets for $25.00
$25.00
New, White, Custom Made Set of Soft Terrycloth Towels with Duck Applique. One bath towel and one hand towel. Completely washable. Excellent Quality.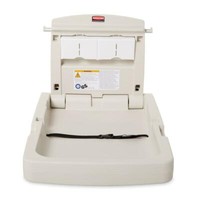 $420.18
Want 10% off? Click the link and enter your email. www.chefequipment.com Free Shipping over $50. Provide a comfortable and reliable baby changing station for your consumers. The Rubbermaid Vertical Baby Changing Station is constructed with high-density polypropylene plastic to reduce moisture absorption andpr
$8.00
6 fuzzi bunz well loved but new elastics and in good condition $15 12 bummis organic cotton prefolds $20 3 medium bummis waterproof covers $12 Thirsties blue (newborn) striped size 1 (up to 18 pounds ...

$382.15
Want 10% off? Click the link and enter your email. www.chefequipment.com Free Shipping over $50. Rubbermaid Horizontal Baby Changing Station that meets all safety requirements. Easy-reach hookfor accessibility to place diaper bag or purse Antibacterial protection : prohibits odour and staining Includes adjustable
Sponsored Advertisements: