---

$10.00
Diaper and baby food bag, great condition, very convenient. We can meet in Charlottetown or Rice Point.
$75.00
13 mother ease fitted diapers (worn) 4 brand new covers (m and lg) 17 cotton liners, worn 3 diaper bags, direct transfer to washer (new) 1 amp hemp liner (lightly used) 1 fuzzy diaper ( good ...
$40.00
Red Lug Diaper Bag. Excellent condition. Comes with changing pad and bag for wet/soiled items. $40

$15.00
This Ikea change pad is a comfy cozy spot for changing wee ones. It's completely waterproof, with a padded base and inflatable sides to keep baby in place and safe from bumps and bruises while ...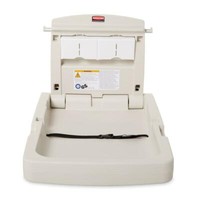 $420.18
Want 10% off? Click the link and enter your email. www.chefequipment.com Free Shipping over $50. Provide a comfortable and reliable baby changing station for your consumers. The Rubbermaid Vertical Baby Changing Station is constructed with high-density polypropylene plastic to reduce moisture absorption andpr

$10.00
Wash pod baby bath tub (Prince Lionheart). Like new. Only used a couple of times.

$382.15
Want 10% off? Click the link and enter your email. www.chefequipment.com Free Shipping over $50. Rubbermaid Horizontal Baby Changing Station that meets all safety requirements. Easy-reach hookfor accessibility to place diaper bag or purse Antibacterial protection : prohibits odour and staining Includes adjustable
Sponsored Advertisements: