Results in Bathing & Changing
Showing 1 - 9 of 9 results
---
$200.00
Great condition. Modular so drawers and cabinet can switch sides. Comes with pad (no pad covers).
$4.00
$4 for all MOVING SALE - Lots To Go/Must Go! *Check Out My Other Ads! Need help? I'll send photos! >Accepting ALL reasonable offers< First Come, First Serve Sarnia, off Confederation
$25.00
First image is size 1- $25 Last two images are size 2-$25(for both) One of the size two bags are open by mistake. No diapers are missing from that package.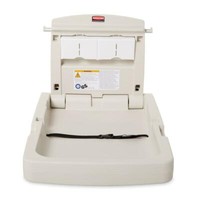 $420.18
Want 10% off? Click the link and enter your email. www.chefequipment.com Free Shipping over $50. Provide a comfortable and reliable baby changing station for your consumers. The Rubbermaid Vertical Baby Changing Station is constructed with high-density polypropylene plastic to reduce moisture absorption andpr
$5.00
Like brand new. Only used 3 months. Glows Cleaned and sanitized. Comes in original box. Porch pick up Cash please Sherwood village
$60.00
480 Brand new diapers in box never opened got for my baby shower and the stores won't let me return it without a receipt or exchange it $60 firm for all three Covid free Smoke free Located in ...

$382.15
Want 10% off? Click the link and enter your email. www.chefequipment.com Free Shipping over $50. Rubbermaid Horizontal Baby Changing Station that meets all safety requirements. Easy-reach hookfor accessibility to place diaper bag or purse Antibacterial protection : prohibits odour and staining Includes adjustable
Sponsored Advertisements: