Results for "quail" in All Categories in Bathurst
Showing 1 - 4 of 4 results
---

$35.99

Shipping by seller
This toggle light switch is made of durable scratch resistant metal that will not fade chip or peel. Featuring a high gloss finish along with matching screws makes this cover the perfect finishing touch.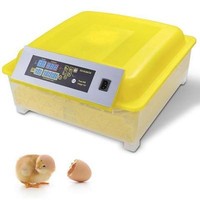 $238.00
Shipping by seller
This brand new 48 Egg Digital Incubator is perfect for home use or educational purposes and activities. It can hatch chicken, dove, quail or other little fertile bird eggs. If the egg trays are removed, this incubator is also versatile for hatching fertile duck, goose and peacock eggs! Features: Transparent base

$349.00
Shipping by seller
Product Description: This new 96 Egg Digital Incubator is ideal for home incubating or educational activities. It features temperature control and automatic turning, which can help hatch chicken, dove, or other eggs within 5'' tall. This machine can provide and control some essential data during the hatching process.
Sponsored Advertisements: