Kijiji Alerts

[?]

Kijiji Alerts are an email notification service where Kijiji users can have the newest Ads sent to your email address.
More Help
Get an alert with the newest ads for "cervelo" in Canada.
Sign Up
---
$1,600.00
Oshawa / Durham Region
22/09/2020
Bought this Cervélo 2.5 weeks ago now. Would prefer to ride a 56 instead. No cracks on carbon, was in great shape with a fresh tuneup when I bought it. Shimano 105 groupset and pedals, Selle Seta ...
$3,500.00
Located in Toronto near College & Ossingtont Available for viewing ANYTIME - Free Parking Call / Text / Email anytime 647 967 0122 Please call before visiting [Some brands I sell are Cannondale, Trek, Giant, Colnago, Cinelli, Pinarello, Specialized, Ridley, Cervelo, Felt, Jamis, Devinci, Louis Garneau, Focus,
$3,500.00
Located in Toronto near College & Ossingtont Available for viewing ANYTIME - Free Parking Call / Text / Email anytime 647 967 0122 Please call before visiting [Some brands I sell are Cannondale, Trek, Giant, Colnago, Cinelli, Pinarello, Specialized, Ridley, Cervelo, Felt, Jamis, Devinci, Louis Garneau, Focus,
$9,999,999.00
WANTED: CLASSIC / OLDER ROAD & TRACK BIKES. Very large collector is seeking older road & track bikes. Higher-end bikes but also looking for lower-mid level models. Bikes that have not been ridden in years are always good. 1950' 60's 70's 80's 90's early-2000's and even current stuff. Italian, Canadian, Japanese,
$1,150.00
Located in Toronto near College & Ossington Available for viewing ANYTIME - Free Parking Call / Text / Email anytime 647 967 0122 Please call before visiting [Some brands I sell are Cannondale, Trek, Giant, Colnago, Cinelli, Pinarello, Specialized, Ridley, Cervelo, Felt, Jamis, Devinci, Louis Garneau, Focus, Argon
$4,500.00
Located in Toronto near College & Ossington Available for viewing ANYTIME - Free Parking Call / Text / Email anytime 647 967 0122 Please call before visiting [Some brands I sell are Cannondale, Trek, Giant, Colnago, Cinelli, Pinarello, Specialized, Ridley, Cervelo, Felt, Jamis, Devinci, Louis Garneau, Focus, Argon
$2,000.00
Located in Toronto near College & Ossington Available for viewing ANYTIME - Free Parking Call / Text / Email anytime 647 967 0122 Please call before visiting [Some brands I sell are Cannondale, Trek, Giant, Colnago, Cinelli, Pinarello, Specialized, Ridley, Cervelo, Felt, Jamis, Devinci, Louis Garneau, Focus, Argon
$2,000.00
Located in Toronto near College & Ossington Available for viewing ANYTIME - Free Parking Call / Text / Email anytime 647 967 0122 Please call before visiting [Some brands I sell are Cannondale, Trek, Giant, Colnago, Cinelli, Pinarello, Specialized, Ridley, Cervelo, Felt, Jamis, Devinci, Louis Garneau, Focus, Argon
$2,750.00
Located in Toronto near College & Ossington Available for viewing ANYTIME - Free Parking Call / Text / Email anytime 647 967 0122 Please call before visiting [Some brands I sell are Cannondale, Trek, Giant, Colnago, Cinelli, Pinarello, Specialized, Ridley, Cervelo, Felt, Jamis, Devinci, Louis Garneau, Focus, Argon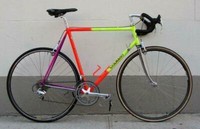 $9,999,999.00
WANTED: CLASSIC / OLDER ROAD & TRACK BIKES. Very large collector is seeking older road & track bikes. Higher-end bikes but also looking for lower-mid level models. Bikes that have not been ridden in years are always good. 1950' 60's 70's 80's 90's early-2000's and even current stuff. Italian, Canadian, Japanese,
Sponsored Advertisements: