Results in Cars & Trucks
Showing 1 - 11 of 11 results
(opens in a new tab)
Searching for a new or certified pre-owned car? Take your search to Kijiji Autos.
---
Please Contact
Looking for a s30 not a s130 chassis. 240/260/280z chassis not 280zx
Location
Mississauga / Peel Region

Westview Auto Broker
$85,000.00

City of Toronto
11/11/2021
1974 Datsun 260z w/ 5-Speed Transmission (Not 280z). Safety Certified Vehicle. Price Firm. Monaco Motorcars Inc. 5385 Steeles Ave W, North York, ON M9L 1R6 Located on Steeles, Just West of HWY 400 ...
At Monaco Motorcars, we are revolutionizing the car buying experience. Come see the difference!!!
Manual | 122,000 km
Dealer updates
Online Financing approvals
Home Delivery
Online Purchasing
Service Open
Virtual Appraisal
Video Chat
Showroom Open
By Appointment Only
Payment Deferrals
Return Policy
$15,000.00
1975 Datsun 280z with a pantera kit and custom body. This is a running driving project, it is currently insured and registered. It definitely isn't in perfect condition, breaks are not great as one ...
4,000 km
$7,900.00
City of Toronto
28/10/2021
Very rare find! This is the lowest Vin number 240z I've personally seen go up for sale for years. For reference, restored and original early series 1970 models sell for 6 figures plus on bring a ...
1,234 km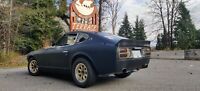 $15,000.00
1975 datsun 280z 383 stroker sbc turbo 350 built trans runs and drives and a lot of fun with the power the 383 is putting out interior still needs work but is complete was driving it all summer Open ...
Automatic | 96,000 km
$19,000.00
Mississauga / Peel Region
23/10/2021
Rare, completely Mechanically rebuilt Have $25,000 into it Need $19,000 Come get it (416) 828-9788 Don't call or text if your poor, its going to need body/Interior finishing, Starting top to bottom ...
Manual | 5,000 km
$4,000.00
Markham / York Region
14/10/2021
Testing waters on my Datsun project. If interested contact for more information. Long story short it's far from original. Brand new frame designed and built to incorporate 240sx drivetrain. Cab has ...
Manual | 215,000 km
Please Contact
We are a new up-and-coming shop that specializes in Datsun's. What we do here is revive tired, weary, run down, old forgotten Datsun's and turn them into driving useable vehicles. We will custom ...
Manual | 81,000 km
$20,000.00
Mississauga / Peel Region
05/10/2021
1981 Datsun 280zx N/A slicktop 2 seater 5spd Have more pictures just ask $20,000 Amazing condition in rare Cameo beige. Original ontario car babied its whole life. Modified tastefully and period ...
Manual | 152,000 km
Sponsored Advertisements: