New & Used Toyota Tacoma in Cars & Trucks in Cape Breton
Showing 1 - 6 of 6 results
(opens in a new tab)
Searching for a new or certified pre-owned car? Take your search to Kijiji Autos.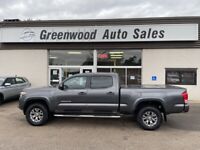 $36,888.00

Provincial Top Ad: Annapolis Valley
< 11 hours ago
GREENWOOD AUTO SALES is a great place to buy a used vehicle where you don't have to haggle for your best price its right up front. All vehicles come with a new 2 year Motor Vehicle Inspection and ...
ALL CREDIT APPS ACCEPTED NO PAYMENTS UNTIL Summer 2020oac VOTED BEST DEALER 5 YEARS RUNNING!
Automatic | 123,306 km

$9,900.00
Cape Breton
< 14 hours ago
2008 Toyota Tacoma 4 Cylinder / Automatic Rear Wheel Drive Very Good Condition / Needs Rear Bumper
Automatic | 111,000 km

$1,500.00
Selling my 2000 toyota tacoma it's 4x4 and 5 speed clutch fork snapped and frame is bad ran perfext when parked tons of good parts all parts are there except for seats drivers airbag and tires has ...
Manual | 360,000 km

$21,500.00
2009 Tacoma, second owner, 116,000 km, v6, auto, 4x4, custom matching cap, new MVI, upgraded Kenwood navigation, window vents, hood guard, trailer hitch, new/ recently replaced: four new ball joints, ...
Automatic | 116,000 km

$6,500.00
Toying with the idea of parting with my 99 Tacoma 5 speed. Truck came from Washington, very very good shape. Truck works great and needs nothing. Inspection good for over another year and will pass ...
Manual | 274,000 km

$2,000.00
For sale 2002 Toyota Tacoma Trucks is 4x4 Currently doesn't run (fuel pump) Has been sitting now for over a year Will need to be towed Frame was replaced by Toyota about 8 years ago now still solid 4 ...
Manual | 350,000 km
Sponsored Advertisements: