Results for "cummins" in Cars & Trucks in Cariboo Area
Showing 1 - 10 of 10 results
(opens in a new tab)
Searching for a new or certified pre-owned car? Take your search to Kijiji Autos.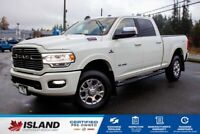 $97,897.00

Provincial Top Ad: Cowichan Valley / Duncan
Yesterday
Our 2020 Ram 3500 Laramie arrives on the lot with a mere 22,546 km on the odometer! The Laramie trim represents the best of what Ram has to offer. It is powered by the 6.7L Cummins diesel engine and ...
Certified Pre-Owned Vehicles all come with 150 point inspection, 24-hr roadside assistance, exchange privilege & warranty. Warranty includes at least 3 months or 5000 KMs.
Automatic | 22,546 km |
Certified Pre-owned
Dealer updates
Online Financing approvals
Home Delivery
Online Purchasing
Service Open
Virtual Appraisal
Video Chat
Showroom Open
Payment Deferrals
Service Drop Off/Pick up

$6,500.00
Williams Lake
< 20 hours ago
Well maintained 1995 Dodge Ram 2500 5.9 cummins diesel, 12 valve, 4x4. Reupholstered by previous owner. Lucas oil at every oil change. -Manual transmission -A/C but needs a charge, and leaks out over ...
Manual | 470,000 km

$10,000.00
02 Ram 3500 Dually Cummins 4X4 6spd manual. This is a 56 block with no blow by at all. Lots of new parts needs a few more runs and drives good. Clutch is perfect along with the 4X4. Leather power ...
Manual | 422,000 km
$18,000.00
I've got an 07 LBZ duramax for sale. This truck has been great to me and I'm only getting rid of it as I have a Cummins I want to put back on the road and there's no sense in having 2 insured ...
Automatic | 347,000 km
$35,000.00
100 Mile House
18/05/2022
340km Deleted 6.7 Cummins Aisin auto 4" BDS Suspension Lift No rust, no dents, spray in box liner, headache rack. New replaced this month: upper and lower ball joints, tie rod, 1 piece aluminum ...
Automatic | 340,000 km

$84,000.00
2019 Ram 3500 Heavy Duty Cummins Diesel ..fully loaded..this great truck hasnt even been broke in yet..lots of warranty left and is hard for us to have to sell for medical reasons...located in ...
Automatic | 46,800 km

$15,000.00
Custom built 95 Dodge Ram 1500 reg cab short box. -1998 12v 215 ppump Cummins turbo diesel @289xxxk -nv4500 5 speed manual -3/4 ton differentials -custom built 3 link long arm front control arms -20" ...
Manual | 289,000 km

$29,000.00
2008 Dodge 3500 Megacab Laramie, 6.7 Cummins Diesel. 225000 Kms. AC, Automatic 4x4. Been a good truck, never let me down. $29,000. Williams Lake Area. Email or call 250-392-5572.
Automatic | 225,000 km

$18,000.00
2005 5.9 Cummins runs and drives great new injectors new front brakes new power steering gearbox, steers nicely, power cloth seats, interior is in good shape 8out of 10 has some rust on front ...
Automatic | 374,000 km

$20,000.00
2001 5.9 55 block nv5600 transmission New injection pump 100hp bd injectors Pusher intakes compound turbo 462over366 New starter 4th gen steering Fass fuel lift pump with tank sump New grid heater 2 ...
Manual | 320,000 km

$17,500.00
100 Mile House
16/04/2022
Testing the waters to see if there any interest 2006 Dodge Ram Cummins 5.9l 24v last year of the 5.9l 24v Runs and drives good 444550kms Auto 48re Transmission was redone at 425kms with receipts 4x4 ...
Automatic | 444,550 km
Sponsored Advertisements: