New & Used in Cars & Trucks in Kitimat
Showing 1 - 10 of 10 results
(opens in a new tab)
Searching for a new or certified pre-owned car? Take your search to Kijiji Autos.
$21,990.00

Provincial Top Ad: Abbotsford
13/05/2022
| Android Auto | Apple Carplay | Bluetooth | Backup Camera | Heated Front Seats | Sunroof | Power Driver Seat | Rain Sensing Wipers | Heated Mirrors | Leather Steering Wheel | Cruise Control | And ...
Automatic | 110,604 km
Dealer updates
Online Financing approvals
Home Delivery
Online Purchasing
Service Open
Virtual Appraisal
Video Chat
Showroom Open
Payment Deferrals
Service Drop Off/Pick up

$6,000.00
Awesome reliable solid 4x4 truck many new parts. 350 vortec trailer hitch power windows viper security and command start New transmission less than a 1000km New front diff new rear diff with posi ...
290,000 km

$6,500.00
238k. Overall excellent condition. Everything works. This year of RAV is the best rated out of all years for reliability. This has sought after features such as standard transmission and full time ...
Manual | 238,000 km

$14,500.00
1992 Geo Tracker - Clean title - 2 door convertible - 1.6 8v motor - Trail gear hydraulic assist power steering with PSC pump, B&M steering cooler and tapped geo box… = easier steering with big tires ...
Manual

$28,000.00
8" bds lift 5 " straight pipe Deleted Efi live switch on the fly 37 X13.5 20s on 14 wide rims with brand new winter rims and tires 35x 12.5 18 Canopy Axel seals just done and new fox 2.0 shocks will ...
320,000 km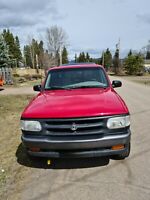 $6,800.00
96 mazda b4000 4x4 has brand new all season tires on it and it comes with spare tire and canopy, it does need a new o2 sensor.if you are interested in purchasing please let me know when you are ...
Manual | 136,738 km

Please Contact
ISO crew cab obs 7.3. Posted in cars & vehicles, cars & trucks in Kitimat. April 17, 2022
123,456 km

$33,000.00
Here's the perfect combo if you are looking! American block, unmolested(stock) pick-up. Other than a new windshield to be installed on purchase this truck needs nothing, babied for years and never ...
Other | 317,000 km

$35,000.00
2014 Toyota Tacoma · Truck · Driven 167,000 kilometers 2014 Toyota Tacoma Trd sport comes with hakkapalita studded winters with factory rims and bfg ko2 on after market fuel rim Bull bar , knight ...
Automatic | 167,000 km

$6,500.00
BMW 330i 2006 280k Fully loaded Sunroof,etc Runs and drives great! Upgraded injectors Aftermarket exhaust
Automatic | 280,000 km

$7,000.00
This 2008 BMW 528xi is a beautiful navy-blue color with an AWD 6-cyl automatic. Is fully equipped with premium package keyless entry, power heated memory leather seats, power sunroof/ windows/ locks/ ...
Other | 218,000 km
Sponsored Advertisements: