(opens in a new tab)
Searching for a new or certified pre-owned car? Take your search to Kijiji Autos.
---

Location
Winnipeg

McPhillips Nissan

$7,250.00
Kia Rio recently safetied, new windshield, battery, air conditioning recharged, rear rotors brakes
Automatic | 110,872 km

$20,467.00
MSRP: $21,467.00

NEW CAR
Winnipeg
29/07/2021
Once you see how transparent this description is, just imagine how transparent your purchase experience will be with us! Experience the difference at BIRCHWOOD KIA WEST in the POINTE WEST ...
Automatic |
Financing

$4,400.00
2013 Kia Rio -1.6 L engine -Six speed standard -Fun to drive -GREAT fuel economy (5.6 L/100 hwy, 6.0 in town) SAFETIED UNTIL AUGUST 12 Asking $4400 obo. Located in Whitemouth
Manual | 264,000 km

$6,800.00
Rebuild Still drives perfectly
Automatic | 75,100 km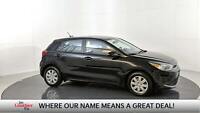 $20,239.00
MSRP: $20,239.00
NEW CAR
Winnipeg
12/07/2021
The 2021 Rio 5 is a hatchback that's designed to do big things. With the latest tech, safety, and connectivity, Rio 5 shifts what it means to be a hatchback. All trim levels come powered by an ...
Financing
Sponsored Advertisements: