Results in Cars & Trucks
Showing 1 - 9 of 9 results
(opens in a new tab)
Searching for a new or certified pre-owned car? Take your search to Kijiji Autos.
---

$3,000.00
Starts and runs mint, great fuel mileage, very clean car. New battery, headlight fixtures, front suspension, and recent oil change. Aftermarket sound system with hands free calling. Low KM for the ...
Automatic | 192,000 km

$800.00
Been sitting for 4 months. Runs and drives Odometer stopped working about 3000-5000 km ago Good winter tires Manual Has hail damage and lots of scratches but mechanically sound Needs a new windshield ...
Manual | 163,891 km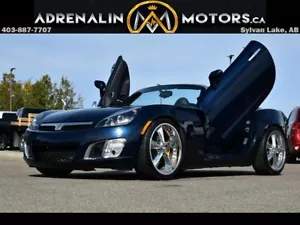 Location
Red Deer

Adrenalin Motors

$3,800.00
This car is in excellent running condition with only 56,000 km , comes with spare set of winter tires like new, some body damage on passenger side of car.
Automatic | 55,600 km

$1,000.00
2007 Saturn Ion 4 cyl front wheel drive. Still runs good. Has a broken rear passenger window. Air/tilt/cruise/power windows and door locks $1000 obo Text 587-215-2665
Automatic | 300,000 km

$1,300.00
1997 saturn runs and drives good , new winter tires 1300 obo 4034156117
Manual | 256,000 km

Please Contact
Fully loaded AWD with tow package, 8 seater with headed leather. 216,000km. Good shape, Other than the transmission seems to be stuck in second gear…… we haven't had it looked at. We bought a new ...
Automatic | 216,000 km

$2,700.00
Great car runs a drives perfect. New front breaks, plugs, thermostat. Does have winter tires to come with it but not in the greatest shape. Milage will go up as its a daily driver Only selling cause ...
Manual | 189,000 km

$3,500.00
2002 Saturn, 160,000 km runs good paint is in good condition, great first car, asking 3500 obo
Automatic | 160,000 km
Sponsored Advertisements: