Results in Cars & Trucks
Showing 1 - 7 of 7 results
(opens in a new tab)
Searching for a new or certified pre-owned car? Take your search to Kijiji Autos.
---

Please Contact
97 Ram 1500 reg cab short box 2wd. Original 5.2l and auto 3:55 tracklock. ALL NEW. Belltech 3-4 drop. New springs shocks tie rod ends ball joints brakes. NRG poly bushings. 2018 20s new tires Custom ...
Automatic | 289,000 km

Swap / Trade
1989 ram w100 318 4x4 4spd manual Runs and drives great lookin to see whats out there for trades. Trucks and big block cars only
Manual | 216,000 km

$4,500.00
1987 w150 power ram 318 2bbl carb and a 4 speed manual runs and drives comes with roll bar for box $4,500 not sure of exact km's
Manual | 1,234 km

$1,500.00
1996 dodge extenda cab long box 4x4. truck hit deer, runs and drives fine. tailgate opens well, A/C still works, back tires excellent, new cv joint on ft drive shaft, just replaced plugs, wires, and ...
Automatic | 303,020 km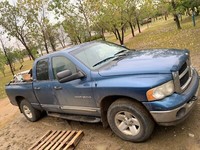 $5,000.00
Has had new spark plugs and wires, new tire put on, highway km, had replaced the intake manifold plenum gasket upper. Has key fobs, two sets of keys four doors, automatic windows, 4wd. Price ...
Automatic | 210,836 km

$15,000.00
2009 Ram 1500. A little rust on the body and some wear on the drivers seat. New all-season tires Jan 2021. I have had this truck for over a year. I have had no engine issues. Just changed the oil and ...
Automatic | 216,000 km
Sponsored Advertisements: