Results in Classic Cars
Showing 1 - 8 of 8 results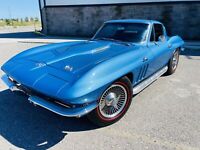 $99,999.00
Provincial Top Ad: Hamilton
Yesterday
SUPER CLEAN CLASSIC! 1966 Chevrolet Corvette 427 Turbo Jet clone ! 327 Motor FULLY RESTORED, 4 SPEED MANUAL, FRESH PAINT, REBUILT MOTOR, AND MUCH MORE! Auto View 905-379-4206 Call or Text! By ...
Manual | 66,000 km

$1,500.00
1967 Fargo w300 4x4 Has a 318 and a 4 speed Does not run but does roll over Good parts truck or restoration project If interested call or text 613-570-0498
Manual | 999,999 km

$28,000.00
Winter project Calls only please Pat 613-585-6374 Price is firm
12,345 km

Please Contact
Anyone have interest in this thing .. Flathead 6 is seized (working on loosening it up) 3 tires are garbage but the thing is solid!! Make an offer or try trades
123 km

Please Contact
Located in combermere ontario. Im selling this heavily rusted and broken fleetmaster car in as is condition. Message me with your offer. Best offer takes it.
100 km
$1.00
1974 gmc jimmy 4x4. Full convertible .rusty .have all hard to get sheetmetal.have nos used gm box sides full bolt on sides for 73 to 91 .best offer.call or text 613 570 0705
200,000 km

$63,500.00
Numbers matching, rotisserie done in 2015. Driven 5000 miles since. Car has all original panels, straight as an arrow. $63,500.00 NO TRADES**** 613-601-8057 days ~ 819-647-5090 evenings and weekends. ...
91,000 km

$20,000.00
One of a kind...not many of these around like this...33,000 original miles..western car Saskatchewan...new interior...seats and carpet (floor as good as body)...318 poly block...power ...
Automatic | 55,000 km

$6,400.00
1968/69 Volvo 144S. B18 motor, disc brakes all around, dual SU carbs, automatic, original AM radio, new fibreglass front fenders, new non-professional paint in original Volvo cherry red, good ...
Automatic | 104,000 km
Sponsored Advertisements: