Kijiji Alerts

[?]

Kijiji Alerts are an email notification service where Kijiji users can have the newest Ads sent to your email address.
More Help
Get an alert with the newest ads for "incubator" in Dartmouth.
Sign Up
---
$1,100.00
Interior Dimensions (WxDxH) : 24 x 24 x 20 in Capacity : 6.7 Cubic Feet Temperature : Amb. +5° to 70°C Power : 115 Volts 5.0 Amps Weight : 162 lbs
$108.00
Features: This 7 Egg Incubator is mainly used for chicken, duck, goose egg hatching. Its transparent Built-in temperature control system GREAT TEACHING AID.... Transparent lid allows observation of the hatching process Contains a built-in fan to keep air circulating CE certified FREE SHIPPING TO MOST MAJOR CITIES
Please Contact
110VEgg Incubator 4/24/48/112 eggs 251063 P rice:contact Notice 1.Limited stock, please purchase ASAP if you want it. 2.Before pickup, please call us to make sure.??Please tell us either kijiji Ad ID number or our item number when you contact with us. 3.The price will a be adjusted when there's large fluctuations
$195.00
Incubator Brooders Reptile Egg Incubator Chameleon Thermoelectric Lizard Snake 032092 Reptile Egg Thermoelectric Incubator Chameleon lizard Reptile 032092 Digital Thermoelectric Incubator Reptile Egg Chameleon Lizard Snake Incubator 110V 032092 Price: C$ 195 Item Number: 032092 1. LCD digital display control 2.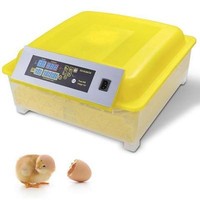 $238.00
This brand new 48 Egg Digital Incubator is perfect for home use or educational purposes and activities. It can hatch chicken, dove, quail or other little fertile bird eggs. If the egg trays are removed, this incubator is also versatile for hatching fertile duck, goose and peacock eggs! Features: Transparent base
$219.00
24 Egg Incubator Specifications: Condition: 100% Brand New Material: Plastic Color: White + Yellow Voltage: 110-240V Power: 60W Plug Type: US Plug Temperature Accuracy: ±0.1 Size: 45 * 18 * 30cm / 18 * 7 * 12inch Egg Capacity: 24 Eggs Weight: 2222 g 2. Mainly used for chicken, duck, pigeon egg hatching, through
Sponsored Advertisements: