Results for "tenere" in All Categories in Edmonton Area
Showing 1 - 7 of 7 results
---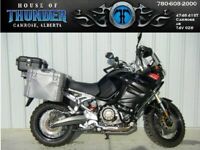 $10,995.00

2012 Yamaha Super Tenere ABS. The all-new ultimate adventure touring platform with a host of technological features and accessories. Yamaha has a long history of success at the famous Paris to Dakar ...

Please Contact
looking for a Yamaha XT1200Z Super Ténéré can pick up any where for the right bike tk,s

Please Contact
Hello, do you own a Yamaha Super Tenere 1200 ? Do you have issues with slow speed, off idle stumbles and sometimes your Bike stalls when coming to a stop ? You may need your Throttle bodies ...
$149.00

Description Applications : YAMAHA Motorcycles Super Tenere XTZ12 2012 1199cc YAMAHA Motorcycles Super Tenere XTZ12 2013 1199cc YAMAHA Motorcycles Super Tenere XTZ12 2014 1199cc Specifications : Part Type: RECTIFIER / REGULATOR Voltage: 12 Replaces these part numbers : BOMBARDIER: 219-800-252 HONDA: 31600-HP0-A01
$99.00

Description Applications : SUZUKI Motorcycles Off-Road DR650SE 1996 644cc SUZUKI Motorcycles Off-Road DR650SE 1997 644cc SUZUKI Motorcycles Off-Road DR650SE 1998 644cc SUZUKI Motorcycles Off-Road DR650SE 1999 644cc SUZUKI Motorcycles Off-Road DR650SE 2000 644cc SUZUKI Motorcycles Off-Road DR650SE 2001 644cc SUZUKI
$99.00

Description Applications : YAMAHA Motorcycles Bolt R SPEC XVS95C 2016 942cc YAMAHA Motorcycles FZ1 2006 998cc YAMAHA Motorcycles FZ1 2007 998cc YAMAHA Motorcycles FZ1 2008 998cc YAMAHA Motorcycles FZ1 2009 998cc YAMAHA Motorcycles FZ1 2010 998cc YAMAHA Motorcycles FZ1 2011 998cc YAMAHA Motorcycles FZ1 2012 998cc
$29.00

Description Specifications: - New All Balls Racing Wheel Bearing Kit. - Kit includes the number of bearings (and seals if the application requires them) that are needed to repair one (1) wheel. Please see the applications listed below. - All Balls Racing high-speed bearings are manufactured to ABEC 3 precision
Sponsored Advertisements: