Kijiji Alerts

[?]

Kijiji Alerts are an email notification service where Kijiji users can have the newest Ads sent to your email address.
More Help
Get an alert with the newest ads for "incubator" in Grand Bend.
Sign Up
---
$100.00
we are a dental office and are now using an other model. this one is in great condition and still works perfectly
$6,500.00

SKU: 17436 Model: NSHI331WSG/0 Voltage: 115 volts, single-phase Crated Height: 89-3/4" Crated Width: 36-1/4" Crated Depth: 39-7/8" Crated Weight: 420 lb Interior Height: 67" Interior Width: 27-3/4" Interior Depth: 31" Overall Height: 85-5/8" Overall Width: 31-3/4" Overall Depth: 36" For more information on this
$460.00
Notice 1.Limited stock, please purchase ASAP if you want it. 2.Before pickup, please call us to make sure.Please tell us either Ad ID number or our item number when you contact with us. 3.The price will be adjusted when there's large fluctuations in exchange rates and raw material costs. 4.Advertising price does
$108.00
Features: This 7 Egg Incubator is mainly used for chicken, duck, goose egg hatching. Its transparent Built-in temperature control system GREAT TEACHING AID.... Transparent lid allows observation of the hatching process Contains a built-in fan to keep air circulating CE certified FREE SHIPPING TO MOST MAJOR CITIES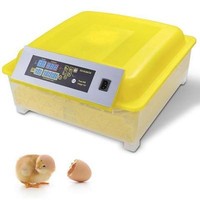 $238.00
This brand new 48 Egg Digital Incubator is perfect for home use or educational purposes and activities. It can hatch chicken, dove, quail or other little fertile bird eggs. If the egg trays are removed, this incubator is also versatile for hatching fertile duck, goose and peacock eggs! Features: Transparent base
$286.00
Chicken House Automatic Door Opener / Closer with TIMER and LIGHT SENSOR Description We understand the responsibility to keep our chickens safe and happy, but we also know that opening and closing chicken house doors can be impractical during social hours and unbearable when rainy or cold. These realities were
$219.00
24 Egg Incubator Specifications: Condition: 100% Brand New Material: Plastic Color: White + Yellow Voltage: 110-240V Power: 60W Plug Type: US Plug Temperature Accuracy: ±0.1 Size: 45 * 18 * 30cm / 18 * 7 * 12inch Egg Capacity: 24 Eggs Weight: 2222 g 2. Mainly used for chicken, duck, pigeon egg hatching, through

$349.00
Product Description: This new 96 Egg Digital Incubator is ideal for home incubating or educational activities. It features temperature control and automatic turning, which can help hatch chicken, dove, or other eggs within 5'' tall. This machine can provide and control some essential data during the hatching process.
Sponsored Advertisements: