Results in Heavy Trucks
Showing 1 - 6 of 6 results
---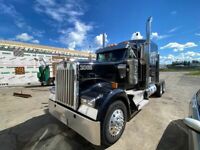 Please Contact

2015 Kenworth W900L Bunk Tractor, ISX Cummins, 500 HP, 18 Speed, 13,200 lb. Front Axle, Super 40,000 lb. Rear Axles on Airride Suspension, 244" WB, 72" Double Bunk Engine: 500 HP

$100,000.00
1999 western star heavy spec Engine c16 caterpillar 15.8L 18 speed race transmission RTLO 22918b Supension 52000 neway New engine transmission suspension tires Race cam.Pittsburg power box , 70 pin ...
1,234 km

$45,995.00
gorgoeus bus 21 pass plus wheel chair lift comes safetied roof air etc ...financing available
41,000 km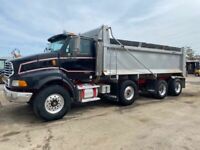 Please Contact

2005 Sterling 9513 Tri axle Dump with Steerable Lift Axle with SPIF computer system newly installed, Pre-Emissions C13 Cat, 430 HP, 18 Speed, 20,000 lb. Front Axle, 46,000 lb. Rear Axles with 4 Way ...
$750.00
Diesel Handheld Features and benefits: The Diesel Handheld will do the following; Read/clear codes View freeze frame data View Live data Force Regens on select engines Includes lifetime updates DPF ...

$45,000.00
34' plus 6' stinger...new paint..new tarp system.. new 34'bin lined with plywood.. 12 new tires &rims.. air ride.. 72 spread each axle.. trailer in excellent shape.. safety.. 45000.. please call ...
100,000 km
Sponsored Advertisements: