---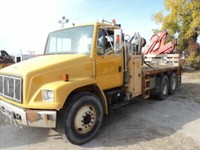 $29,900.00
Low kms on this former Hydro truck 136000 km 2004 Freightliner FL 80 tandem with 8.3 Cummins auto transmission comes with a Ferrari 712 A2 (can be sold separately) 3850 kg or 8500 lbs crane and flat ...
136,000 km

$22,500.00
2005 international 7600, ISM cummings diesel engine. 13sp eaton transmission. Hendrickson suspension. Double steering boxes. Double frame. Fresh safety ready to work. New steer tires. Tires all good ...
311,000 km

Please Contact
Parting out 1998 International 9100 tandem with Cummins M11 celect engine. Truck has been sitting for awhile not sure of the engine status but it is complete. 10 spd transmission. rust free doors and ...
123,456 km

$13,500.00
Hi, I am selling my truck International 2006 with cummins ism, HP 425, 819000km,10 Speed Manual. Pre- emission. safety done in Feb, fresh frame paint, well maintained, fuel efficient. For more info ...
821,000 km

Please Contact
Scissor low bed double drop. New wiring, lites and wood.

$25,900.00
Please make an appointment prior to viewing. 2002 Sterling with fibreglass service box and V mac under hood air compressor. 5.9 L cummins, allision auto trans. air con am fm 33,000 lb gvw , rear ...
163,746 km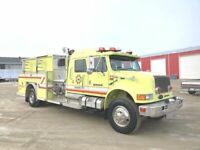 Please Contact

2000 IH 4900, Quad cab pumper truck, all the bells and whistles and features, 320 Hp, Automatic, 12/23, 1000 Gallon tank, A/C, cruise, tilt, Foamer, monitor, generator, on spot spreader chains, ...
177,000 km

$58,000.00
My dad is selling his 2013 Western Star 4900ex. He has retired from trucking. The truck has 1.100.000 kms on it. Has a generator.

Please Contact
Volvo wg with a unkillable d12 engine. Eaton transmission 13 speed standard. 15 foot box. Truck has original 310,000 km. 8141 hours. Safetied original was a 10 speed transmission we put in a rebuild ...
300,103 km

$57,750.00

2016 Freightliner Cascadia DD13 engine with 450HP 13 speed manual transmission 919,210kms 3.55 ratio 234" wheelbase Double bunk 12,500/40,000 axles Extended warranty options available We offer ...
919,210 km

$12,500.00
2003 Freightliner FL80 Bucket Truck Forsale, No Safety. Truck was bought Non Running with Exhaust manifold and Turbo were taken off the motor (Have taken off parts). Needs Engine work or Replacement. ...
123,456 km

$10,000.00
New parts. Gas tank, straps , fuel pump assembly Map sensor EGR sensor Idle air control Spark plugs Spark plug wires Distributor cap and rotor Crane boom needs new return line Will be saftied for ...
77,000 km
Sponsored Advertisements: