Results in Lost & Found
Showing 1 - 5 of 5 results
---
Lost on either Thursday, Jan 13 or Friday - 1 small silver USB Thumb drive with a ceramic pencil stub attached. Possibly in Superstore in PG around 7:00 pm either at Register 6 or in the parking lot. ...

My friend found this a while ago and doesnt remember which trail it was on. Mini Squishmellows and hand sanitizer
Lost and found Hockey gloves Found hockey gloves at Southridge hockey rink Message me to identify them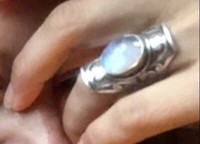 Above ring belongs to close friend who lost the ring in September during relocation. Could be anywhere between Horse Lake and Kelowna. If anyone has info please contact. 250-552-4372. Any information ...
Found portable boom box 15th& Tabor, complete description of item for return!
Sponsored Advertisements: