Results in Motorcycles
Showing 1 - 7 of 7 results
---
$2,829.00

Weighing in at only 35.2 kg (77.6 lbs.), this is our lightest 3,000-watt ultra-quiet generator by about 40%. FEATURES Portable, lightweight and compact—only 35.2 kg (77.6 lbs.)3,000 watts (25 A) of ...
Feel The Freedom
$1,449.00

Provides refined cutting and mulching features for optimal performance in a variety of landscape environments. Kingston Harley-Davidson | MotoSport Plus Honda is Southeastern Ontario's one stop shop ...
Feel The Freedom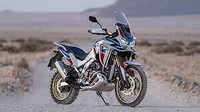 $21,397.00

MAKE LIFE AN ADVENTUREHas there ever been a better time to be an adventure-bike rider? And has taking your next vacation on an adventure bike ever looked better either? Honda's Africa Twin lineup is ...
Feel The Freedom
$2,999.00

Get excellent performance in a lightweight, compact package. Perfect for inflatables, sailboats or as a kicker for larger fishing boats, the BF8 gives you the convenience of the Fold-Down Tiller ...
Feel The Freedom
$1,899.00

Portability, performance, reliability and user-friendliness are the hallmarks of this new portable engine model; the BF4 four-stroke outboard. The new BF4 is easy to start, easy to stop and easy to ...
$1,999.00

Quiet, dependable, lightweight. Which is exactly what you want in a portable outboard. The BF5 is incredibly lightweight and compact. It's easy to transport and ideal for small tenders, and jon ...
Feel The Freedom
$1,249.00

The world's lightest 4-stroke outboard with world-class fuel economy, the BF2.3 is ideal for tenders, small fishing boats or as auxiliary power. Quiet and simple to run with its automatic clutch, it ...
Sponsored Advertisements: