---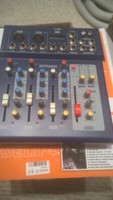 $80.00
BoxAa, Goes for $118.89, get it for $80. new in box, AMMOON F4 Professional Metal 4 Channel Live Mixer Mixing Console 3-Band EQ USB Function 48V Phantom with Bulit-in Effect Processor Mic Input ...
$60.00
BoxAa, Pyle Portable Microphone Mixer Karaoke Goes for $82.80, get it for $60. new in box, with Dual Mic input, 3.5mm Stereo Type Audio Input Jack & RCA Type Audio/Video Output Jack - Ideal for DJ ...
$120.00
Works great, was not used much. Has everything a wireless system needs. A receiver, a transmitter and a lavalier mic.

Please Contact
Musique Red One Music Neuf & Usagé / New & Used 514-225-2226 Specialisation: Services: Sonorisation / Pro Audio -Vente & Achat / Buy & Sell Éclairage / Lighting - Installation / Setups Instruments - Réparation / Repairs Location / Rental - Échange / Exchange MEILLEUR PRIX AU CANADA *** MEILLEUR PRIX AU CANADA

$489.77
We Ship Coast to Coast From Oakville, Ontario. For more details, you can go to our website at www.expertisland.com MASSIVE SOUND WITH WIRELESS CONNECTION 12″ high-output woofer / 1.4″ titanium dome compression driver 1300W of ultra-efficient Class-D power 3 Channel Digital Mixer Thump Connect™ control app for

$299.77
We Ship Coast to Coast Shop from Home at www.expertisland.com Come by and visit us at EXPERT ISLAND - 2538 SPEERS ROAD, UNIT # 10, OAKVILLE, ON L6L5K9 WE ARE OPEN Monday & Tuesday - 10am to 6pm Wednesday - CLOSED to the Public Thursday & Friday - 10am to 7pm Saturday - 10am to 4pm Sunday - CLOSED ***(always check

$329.88
Watch our How to video and product Review on our website. We Ship Coast to Coast From Our Oakville, Ontario Showroom. *** for more Details or Questions, reply to this listing or just give us a call at 905-825-0999 ***Come by and check out this and other great deals*** EXPERT ISLAND - 2538 SPEERS ROAD, UNIT # 10,
Sponsored Advertisements: