Results in Accessories
Showing 1 - 11 of 11 results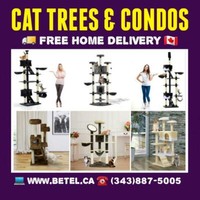 $79.00

UNTIL STOCKS LAST !! FROM $79!! • (343) 887-5005 • WWW.BETEL.CA • FREE HOME DELIVERY VIA UPS® • Cat Trees Condos scratching Posts on Sale • Warehouse Direct • See them online @ www.betel.ca * * * We are 100% Virtual and Operational. Buy with confidence. We provide contactless FREE delivery in partnership with
$75.00
Purchased from Harley dealership, never worn. Paid $100, looking to get $75
Please Contact
New Cabela's Camo Northern Flight Vest, size large. Nice & thick to protect your dog. Asking $45 he bought the wrong size for her Orange Remington hunting vest size medium Asking $ 10
$130.00
Selling an extra large cage perfect for a rabbit or guinea pigs. Comes with a detachable divider to separate one end of the cage, no other accessories are included. Cage was purchased new and used ...
$30.00
Good and Strong Cage But Has No Litter Pan.
$20.00
Plastic training pee pad. Used for a few weeks. 19"x16"x1" high. $20. Call or text 613-585-0229.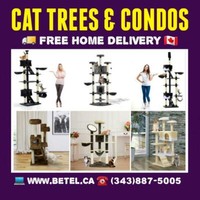 $79.00

UNTIL STOCKS LAST !! FROM $79!! • (343) 887-5005 • WWW.BETEL.CA • FREE HOME DELIVERY VIA UPS® • Cat Trees Condos scratching Posts on Sale • Warehouse Direct • See them online @ www.betel.ca * * * We are 100% Virtual and Operational. Buy with confidence. We provide contactless FREE delivery in partnership with
$50.00
White plastic folding pen with door. Ideal for training. Used a few weeks. Excellent condition. 36" square, 24" high. $50. Call or text 613-585-0229
$50.00
Brand new, never used, folding dog crate with removable tray. 24" deep, 19" high, 17" wide. $50. Call or text 613-585-0229.
$20.00
Great condition she wore it a day. Size is Xs my cat is two.
$100.00
5 gallon fish tank including led light attachment, food, 2 filters, cartridges brand new, net, rocks, lid, SpongeBob house. Used for a month. Like new.
Sponsored Advertisements: