New & Used in Electrical in Lloydminster
Showing 1 - 10 of 10 results
---

$150.00
Brand new 15 meters of 4/0 USEB 90 cable. Was $315 new. $150

$75.00
1000ft box. Some has been used not much. PLEASE ALLOW 24 HRS FOR PICK UP IN LLOYD. HEAVY ITEMS TO BE PICKED UP SOUTH OF KITSCOTY. IF YOU ARE INTERESTED IN MULTIPLE ITEMS PLEASE FEEL FREE TO COME OUT ...

$37.00
4 foot LED lighting. Brightest, most durable and reliable lights on the market. The perfect light for shops, garages and any other workspace you need to light up. Easy installation and linkable, ...

$1,500.00
Electrical wire breakers boxes. Posted in home renovation materials, electrical in Lloydminster. October 7, 2021 will trade for newer tires fora 2013 dodge 1500 4x4 obo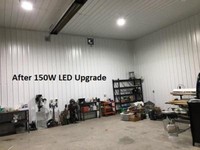 Please Contact
Shipping by seller
Replace those tired incandescent or Sodium Vapor lights with High output LED Bulbs or Fixtures and Enjoy more light with huge savings. Visit us at LevkomLighting.com Average Return on investment when switching to LED is under 18months. That means the initial cost is saved within 1.5 years and pure savings beyond

Please Contact
Shipping by seller
Did you know? LED lights use 80% less electricity than regular lights. They also last much longer — 50,000+ hours (or more!). They also work in extreme cold weather and produce up to 1000% more light than traditional options. If you are serious about your shop or garage lighting we can help. Visit us at https

$17.99

Shipping by seller
The DR40GF-BK is a 9 watt 4" slim profile round gimbal LED panel. It is a high-performance, easy to install residential grade downlight solution that offers good light output, energy efficiency and streamlined design. Features Body An adjustable gimbal in a durable, airtight and incredible thin aluminum body.

$7.99
Shipping by seller
Canadian LED supplier provides LED residential and commercial products More info please visit our website jhycanada.ca • Slim Panel Lights Certification: ETL certified to CSA & Energy star -- 4" from $7.99 /ea; -- 6" $12.99/ea • Panel Lights Certification cULus DLC FCC -- 2x2 FT 40W Dimmable Panel Lights $45 --

$288.00

Shipping by seller
Purchase in a box of 24 units, is $12 per unit. DR 40RF-WH PRODUCT FEATURES Round durable aluminum body White polycarbonate diffuser lens 12W LED module Up to 750 lumens Available in 3000K, 4000K and 5000K CCT CRI 80 White finish 5 years warranty Energy star approved AIR TIGHT Dimmable when used with a TRIAC dimmer

$16.99

Shipping by seller
Model: DR40RG-WH Features 90° Tilting High Performance Easy Installation Airtight 5CCT Switchable-2700K/3000K/3500K/4000K/5000K 10%-100% dimming capability 5 Years Warranty; Specs Wattage: 9 Input: 100-125V AC, 60Hz, 0.09A Bean Angle: 38° Lumens: 860 Cut-Size: 4-1/4" Power Factor: >0.95; LED Gimbal Slim Light
Sponsored Advertisements: