Results in Scooters & Pocket Bikes
Showing 1 - 7 of 7 results
---
$3,095.00

ATV Edmonton Motorsports Ltd. (North & South) ATVs, Quads, UTVs, Dirt Bikes, Dune Buggies, Go Kart, Scooters, Bicycles, Toys, Boats, Trailers, Helmets, Parts & Accessories. ATV Kids/Youth: 110cc, ...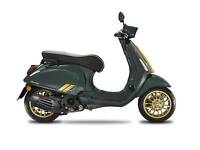 $4,595.00

2021 Vespa Sprint 50 Racing Sixties No matter the size of the city, you'll navigate it with ease and style on the Vespa Sprint Racing Sixties. Features may include: SPORTY AND TRUSTY Drive your Vespa ...
Serving Alberta Since 1927!

$200.00
Brand new top end rebuild great little bike. Will easily do 45 km/h Comes with a full tank of gas.
2 km

$2,900.00
Great scooter never had a problem only readon I'm selling is because I don't need it anymore $3500 obo 6441 kms
6,441 km

$1,800.00
New batteries, 2 spd, bought new in 2019, 1695 kms. Works well. 1 owner. 1800.00 obo Jack 780-203-9124
1,695 km

$950.00
Not using and want the room back in my garage. This 2 stroke oil injected scooter runs great and can go up to 70 kph. It has one damaged light in the front from falling over but I have seen the ...
4,142 km

$1,000.00
70cc ,4 stroke Automatic New carburetor New battery New wiring harness New front brake caliper and control Led headlight Led taillight Runs real good, lots of fun, it will go with an adult on it on ...
1,111 km
Sponsored Advertisements: