Results in Scooters & Pocket Bikes
Showing 1 - 12 of 12 results
---

$1,000.00
Perfect condition Runs great New batteries Keys included Newer tires Charger included
180,000 km

$1,950.00
Mororino Electric XMR with very load mileage and in very good condition.
2,277 km

$3,500.00
Comox / Courtenay / Cumberland
24/09/2021
3500km, yoshimira exhaust, lots of other extras aftermarket parts. Fresh oil, carb clean and filter, Approx 2000$ invested
3,500 km

$2,400.00
Honda ruckus clean title, runs great. No problems all controls work. all parts are OEM. Please contact for more info.
4,365 km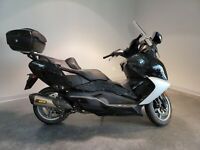 $9,999.00

$293 Vehicle Processing. Freshly serviced and ready to ride! Engine Type: In-line twin-cylinder four-stroke engine Displacement: 647 cc Bore and Stroke: 79 mm x 66 mm Cooling: Liquid Compression ...
9,522 km

$3,300.00
Yamaha _ Scooter (drivers license needed) Model: Yamaha S-Max (XC 155 GG), Model from 2016, purchased in 2017. KM 11700, dark grey metallic, engine size is 155 cc. Top speed 133 Km/h. Allowed to ...
11,700 km

$1,655.00
Full service 5 km ago, full cover, new mirrors in box. New Battery, Newer Bell helmet included. Price $1,655.00 email thartdrew@icloud.com
18,877 km

$3,250.00
Senior owned Piaggio 500BV, with luggage carrier and large wind screen. Easily carries two people and is comfortable around town or on the highway, at highway speeds. Comes with original owner's ...
24,588 km

Please Contact
Runs and starts great no issues. The fuel pump and fuel injector have been replaced with new parts. The bike also has a 70cc engine upgrade instead of the stock 49cc. Asking 1,900 OBO please text or ...
62,125 km

$2,400.00
Burnaby/New Westminster
30/07/2021
•Fuel injected engine gives the best mileage possible. Costs less than $8 a tank and gives more than 250kms. •150cc Engine has enough power to take you on the highway so you can commute anywhere in ...
7,300 km
Sponsored Advertisements: