New & Used in Scooters & Pocket Bikes in Calgary
Showing 1 - 6 of 6 results
---

$4,000.00
I am selling my 2019 Honda Ruckus. It was purched new so I was only owner. Stored inside and only 506km. I will be sad to see it go but I just welcomed my son to this world so won't be able to use ...
506 km

$5,800.00
Bought from dealer 2020 only put 1000 km on it. Heated seats and grips power windshield. Will keep up on highway with 2 people and gear. Look up pricing they are $6500 US in many states.
18,000 km

$2,750.00
Must sell 2016 Piaggio BV 350.There is damage to left handlebar, brake lever and fairing due to an accident. The scooter is in excellent mechanical condition with only 6427 km. Price is $2,750 OBO.
6,427 km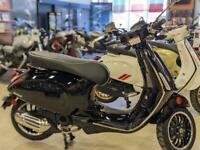 Please Contact

BLACK BEAUTI JUST ARRIVED TODAY, WILL NOT LAST LONG CALL OR TXT TODAY FOR MORE DETAILS 403-230-1920 2022 Vespa Sprint 50 vers dynamic mobility that doesn't come at the cost of great engine technology ...

$1,899.00
This 2021 MILG electric scooter has a 500watt 48 volt motor. Great condition with only 7.9km. It has an alarm with a remote. It has 3 speeds up to 30km/hr. Great condition. No licence, no ...
7 km
Sponsored Advertisements: