Results in Snowmobiles
Showing 1 - 3 of 3 results
---

Please Contact
Hi Looking for a track for my 72 Johnson ,15 inch center drive,54 window,please contact.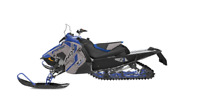 $18,828.00

2021 Polaris 850 Indy XC 129, Grey & Blue Electric Start, Mid Smoke Windshield, 15 x 137 x 1.25 Ice Ripper track, ROX Riser w/ Polaris Interactive Digital Display, Painted Black Tunnel, Painted Blue ...
Ward's Marine is your premier retailer of new and pre-owned boats as well as new and pre-owned ATVs/Rangers/Snowmobiles

Please Contact
parting out many snowmobiles Skidoo F 2000 chassis (stx, ss, z, 1, mxz, F3) Skidoo safari (Rally and le etc.) 377cc 503cc Skidoo PRS formula (mxlt and plus) ski doo CK3 (Mach z) only few parts left ...
Sponsored Advertisements: