New & Used in Sport Bikes in Halifax
Showing 1 - 7 of 7 results
---

$8,500.00
City of Halifax
< 8 hours ago
Great bike in great shape and in awesome colour! Well maintained and runs great. No issues. Turn key. Reason to sell is I got into another bike.
16,000 km

$1,700.00
City of Halifax
14/05/2022
Selling bike as is all parts and extras, about 75-76k km on motor Has new recitifier(400) cam chain tentioner (100), Not even full season on new tires(300), chain (160) and stock size sprockets (100) ...
75,000 km

$4,000.00
City of Halifax
13/05/2022
Scratch on right hand side of bike as shown, low km, only selling because I missed license appointment. $4000 what I paid for it. Come get it
10,000 km
$5,000.00
2022 Honda Grom mint condition . Has Yoshimura slip on pipe. MNNTHBX stage 3 intake . Protaper bars and and a tail tidy kit for mods . No there is nothing wrong with it No there is no lien on it , I ...
243 km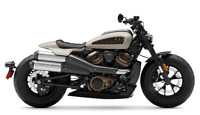 $20,799.00

City of Halifax
01/05/2022
A new chapter opens in H-D's longest running family, powered by the all-new Revolution Max 1250T. To call it the ultimate Sportster is an understatement. Prepare for a level of power and performance ...

$5,500.00
City of Halifax
26/04/2022
2018 Yamaha r3, very low mileage and in perfect condition. Has shorty levers and short license plate holder as well as a couple other things not pictured.
2,000 km

$4,500.00
I have a 04 gsxr great shape. works great. No trades. If the ad is up its available. message or call for more details asking 4500 obo
61,000 km
Sponsored Advertisements: