Results in Sport Bikes
Showing 1 - 5 of 5 results
---

$160.00
Mint like new asking $160 retailed at $400
100 km

$5,500.00
Lead acid battery 96v F1 phantom pro. Goes up to 100. Its an ebike so no insurance or license is required. Fully electric. Full charge will get you 50-60 kms. Letting it go for 5600. Comes with ...
300 km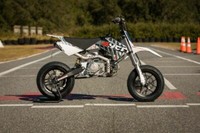 $2,099.00

YCF 125SM Supermoto 125cc, Manuel clutch 4 speed , kick starter race hydraulic front & rear disc brakes, race aluminum supermoto wheels, street tires, super fun stunt bike we charge $200 for PDI, ...
$80.00
Momo safety jacket padded shoulder and elbow protection. Good looking jacket It's labeled xs but I wore on hot days with just tshirts unzipped for added safety but I ussually wear mens medium. In ...
Sponsored Advertisements: