Results in Street, Cruisers & Choppers
Showing 1 - 9 of 9 results
---

$9,350.00
1967 Triumph 650 Bonneville Bobber Custom built, lowered and stretched New tires Powdercoated frame, wheels, bars etc Custom painted fender, tank and oil reservoir Everything is new Ready to ride! ...
20,000 km

Please Contact
Looking for Triumph Bonneville or Street Twin Fuel Injected Air cooled preferred Liquid cooled is ok Budget approx 4K

$17,999.00

$1000 cash rebate applied to the price shown or 1.99% for 36 Months or 3.99% for 48 or 4.99% for 60 or 72 months OAC. Deal Ends Aug 31st 2021 Powered By TurnkeyWebSolutions.com. Vehicle Information ...

$6,950.00
Purchased brand new, original owner. Only 6759 kms. All lights including head lamp upgraded to led (original bulbs included, including head lamp). Dunstan replica exhaust pipes. Saddlemen lockable ...
6,759 km

$6,250.00
2009 Triumph Bonneville for sale. Excellent condition. Runs beautifully and well maintained. Lots of upgrades including British Customs Predator Pro pipes (sounds great without being obnoxiously ...
19,600 km
$7,500.00
1972 Triumph 650 Bonneville, New Clutch, fuel lines, new tires, front and back, 5300 miles asking 7500.
5,300 km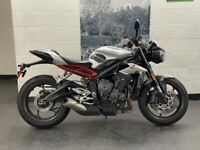 $9,499.00

Matte Silver Ice, low ride height Powered By TurnkeyWebSolutions.com. Vehicle Information Provided by autoTRADER.ca
16,380 km
$7,500.00
Selling my 2011 Bonneville T100 Has British Customs Sleeper Pro slip on muffles B/C Air Injection removal kit B/C Clutch lifter finisher kit and cable bracket. Speed Triple bar end mirrors. Stock ...
7,500 km
$7,900.00
1972 Triumph 650 Bonneville. New Clutch, fuel lines, new tires front and back, 5300 miles asking 7900
5,300 km
Sponsored Advertisements: