Results in Street, Cruisers & Choppers
Showing 1 - 9 of 9 results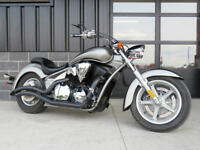 $8,995.00

Provincial Top Ad: Cambridge
24/08/2021
Apex Cycle 1-888-702-4150 Visit our showroom for a huge selection of the brands you love, conveniently located off the 401 in Cambridge. Finance at $106.22 bi-weekly!* Click "Get Financing" to see if ...
15,524 km

$3,000.00
Kawartha Lakes
28/08/2021
2003 Honda Shadow VLX600 EXCELLENT CONDITION CHEAP ON INSURANCE $3,000 OBO I've only ran high test gas for the time I've owned it (7yrs) Always fogged out, stabilized and stored in the garage on a ...
78,177 km

$3,200.00
Kawartha Lakes
24/08/2021
Beautiful American special edition 750 Honda shadow Selling for $3200 or best offer Great shape Mustang seat , saddle bags , running boards
58,000 km
$2,000.00
Kawartha Lakes
24/08/2021
Bike was certified 2 years ago. Hasn't been driven since. Should be certifiable easily. I will certify. Nonsense offers will be ignored. I will answer most evenings.
68,000 km
$1,500.00
Kawartha Lakes
22/08/2021
1984 Honda Shadow. 500. Have owned for about 10 years. Been parked since 2015. Battery is dead and sold AS-IS No issues when it was on road just haven't had time to ride. $1,500 OBO, open to trades.
33,223 km

Please Contact
Kawartha Lakes
18/08/2021
81 CB 750 TON of brand new parts. Runs strong and fast. Serious inquiries only. No dreamers or time wasters please.
5 km
$3,500.00
Kawartha Lakes
11/08/2021
Great bike needs nothing to cert 66500 $3500 OBO
66,500 km
$3,600.00
Kawartha Lakes
02/08/2021
Good running condition. Always stored in garage. New battery. Have original exhaust pipes, badging, and much more. 36k original miles. Have vehicle info package.
36,023 km
$3,300.00
Kawartha Lakes
23/07/2021
97 rebel been modified have almost all the original parts minus the turn signals tail light and fender about 4000 original km on it 3rd ower first 2 were both women . 3300 obo any questions ask away
4,000 km
Sponsored Advertisements: