Results in Street, Cruisers & Choppers
Showing 1 - 6 of 6 results
---
$18,995.00

Apex Cycle 1-888-702-4150 Visit our showroom for a huge selection of the brands you love, conveniently located off the 401 in Cambridge. Finance at $133.50 bi-weekly!* Click "Get Financing" to see if ...
2,601 km
$2,500.00
Kitchener / Waterloo
14/09/2021
2005 S50 with upgraded Mustang saddle. Saddle bags and Clymer maintenance manual included. Only 27000 km!
27,000 km

$2,500.00
Kitchener / Waterloo
09/09/2021
2002 Yamaha Vstar 1100 Classic. Still lots of time to ride. Back and knees are getting too bad to be able to hold the bike up anymore. Can deliver depending on location. Last price drop before I take ...
150,000 km

$4,500.00
Kitchener / Waterloo
28/08/2021
Honda Shadow RS 750 for sale. All owners have taken great care of this bike. Selling this bike because I use my other bike more often. Services done to it every spring and before the winter. Stored ...
26,000 km

$6,000.00
Kitchener / Waterloo
16/08/2021
2010 vstar custom. 13,665kms. Never dropped or mishandled. Needs an oil change, i have a kit with purchase, never had the chance to do it myself. Selling because we've had our 2nd child so no time ...
13,665 km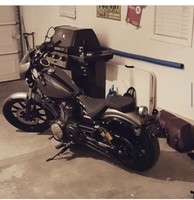 $8,900.00
2014 Yamaha Bolt R-Spec. Posted in motorcycles, street, cruisers, choppers in Cambridge. August 4, 2021 Baron exhaust, vance&Hines intake with cap, Yamaha saddle bags, back seat with back rest! EJK ...
9,600 km
Sponsored Advertisements: