Results for "cb" in Street, Cruisers & Choppers in Mississauga / Peel Region
Showing 1 - 11 of 11 results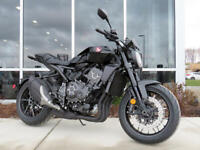 $17,192.00

Provincial Top Ad: Cambridge
13/05/2022
Apex Cycle 1-888-702-4150 Visit our showroom for a huge selection of the brands you love, conveniently located off the 401 in Cambridge. All fees are included, among them a temporary logistics ...
$7,500.00
Mississauga / Peel Region
Yesterday
Feeler for my custom chopper! Built with a cb900c motor flat 4 cylinder for that dual pipe look. Too many mods to name. Mostly harley parts and custom part. 21" front wheel, 18" rear with 240 wide ...
3,000 km
$12,500.00
Mississauga / Peel Region
17/05/2022
2014 BEUTIFUL HONDA CB1100 looks old school but Honda did a fine job building this modern bike to look just right, its in perfect condition, with only 1184 km.Engine Type: Inline-four, Chain-driven ...
1,187 km
$5,500.00
Mississauga / Peel Region
13/05/2022
Selling my Cb750 . Runs well no issues. Neutral light is out. Selling 5500 OBO . Serious inquiries only thank you!
35,000 km
$2,700.00
1985 Honda Cb 450Sc . Bike is in excellent shape . Has some surface rust . Ready to ride ready. Ownership in my name. Will do a Safety for an additional fee . Cash Only.
14,601 km
$6,000.00
Mississauga / Peel Region
08/05/2022
Selling my turn key 72 CB750 Cafe bike. Top end rebuild, new tires, new spokes, powder coated rims, wiring completed by Motobrix, custom seat and rear cowl. Any questions just ask. No trades. Seat ...
$4,999.00
Mississauga / Peel Region
03/05/2022
Tastefully and meticulously restored 1981 classic Honda CB650 custom with 23k original km's. Currently plated and insured and being ridden occasionally on the weekends. Was a hobby project from last ...
23,500 km
$3,000.00
Mississauga / Peel Region
28/04/2022
Hi. As the ad states, selling a 1971 Honda CB500 Cafe Racer conversion with GSXR front end. To make this work I purchased a beautiful one piece hub from congnito moto valued at over $1500 usd alone ...
15,000 km
$5,600.00
Mississauga / Peel Region
26/04/2022
One owner since 2010. Middle aged mature rider. Bike has freshly installed new tires and new battery. Two modular helmets and two jackets can be included. Bikes comes with GIVI windshield and GIVI ...
29,000 km
Please Contact
Mississauga / Peel Region
07/04/2022
This bike runs and rides great. Comes with new tires and tubes. It's a vintage 1974 Honda cb 200 twin. These bikes are getting harder to find. Please feel free to contact me if you're interested. And ...
100,000 km
$3,800.00
Mississauga / Peel Region
06/04/2022
New Tire Change Front and Rear Brake Rebuild New Battery Valve Adjustment Carb Rebuild & Pod Filter Reconditioning Oil Change Cam Chain & Points Servicing
49,999 km
$14,000.00
Mississauga / Peel Region
04/04/2022
2017 HONDA CB1100 EX. 12000 KMS. Excellent condition. Need not to explain it , if you know what am I selling. Selling due to medical reason, knowing that I will never find it again. Comes with , Leg ...
12,000 km
Sponsored Advertisements: