Results for "bobber" in Street, Cruisers & Choppers
Showing 1 - 7 of 7 results
---

$250.00
OEM 1998 Harley-Davidson sportster in great condition. Was for a bobber bike project. 250$

$1,600.00
1972 triumph Bonneville bobber project, new hard tail paid $750 for , rear 16" Harley wheel laced to a triumph hub. The bad is the motor needs to be rebuilt and i don't have the registration for It.
12,300 km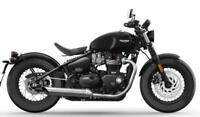 $15,250.00

2022 Triumph BONNEVILLE BOBBER With peerless iconic authenticity and modern capability, the Bonneville Bobber delivers the absolute best of the previous generation Bobber and Bobber Black combined - ...

$400.00
I have a 1980 Honda Gl1100. It was an interstate model, but then I took off the fairings and went for more of a bobber look. It needs a starter solenoid, (has to be started by shorting the connection ...
31,000 km

$16,500.00
Brand new Condition Only 2973 kms Upgraded Track Slip on Exhaust Extended warranty 84 months
2,973 km

$2,400.00
1982 Kawasaki KZ440 Bobber. Parallel Twin, Twin Carb's, 6 speed, Belt Drive. Daily Driver. I have all the part's taken off from when I converted it to a bobber. $2400 txt or call 850-0881
123 km

$1,000.00
For sale is my 86 virago 700 bobber project. Well over 1200$ in new parts that I've bought for it and countless used. There isn't a single spot of rust on the bike, frame was powder coated and ...
123,456 km
Sponsored Advertisements: