New & Used in Street, Cruisers & Choppers in Muskoka
Showing 1 - 10 of 10 results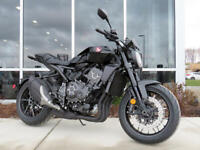 $17,192.00

Provincial Top Ad: Cambridge
13/05/2022
Apex Cycle 1-888-702-4150 Visit our showroom for a huge selection of the brands you love, conveniently located off the 401 in Cambridge. All fees are included, among them a temporary logistics ...
$2,500.00
Great Bike all ready to go 600cc 4 speed
49,220 km
$3,000.00
1991 goldwing SE 160000KM little to nothing for safety
160,000 km
$3,300.00
Bought for rolling thunder in Ottawa. Was featured on many MSM networks in the ride. Don't want to sell, but don't need it any longer. Low Kms and is in mint shape. Just safetied less than 3 weeks ...
59,363 km
$4,000.00
2004 Honda Shadow Spirit 1100cc excellent condition. comes with tank bag ,rear carrier and cover 4000.00 obo
43,326 km

$5,000.00
Mint 1998 Valkyrie Tourer. 94,000 km. Brand new rear tire, riding foot pegs,heel toe shifter, large rear brake pedal and optional driving lights. Cover included. Getting out of motorcycling thus many ...
94,000 km
$2,250.00
2000 Honda Shadow Ace 750 cc. Bike has sat for the last couple years in dry storage. Runs good but needs a good run down the road. Not sure what it needs for safety but it shouldn't need much.
105,000 km
$5,500.00
2003 VTX 1300 retro in absolutely mint condition. Lots of extra chrome, cobra floor boards, cruise control, low mileage. This bike has been very well looked after and maintained. Leather saddle bags, ...
31,224 km
$5,000.00
Road ready. Excellent condition. Immaculate.
23,300 km
$1,200.00
Excellent condition, engine needs valve work, have all parts. Asking 1200 obo. For inquiries call or email Alan Phone: 705 -447-3199 Email: triplettransmission@gmail.com
40,000 km
Sponsored Advertisements: