New & Used in Street, Cruisers & Choppers in Napanee
Showing 1 - 11 of 11 results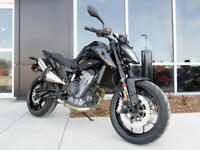 $13,562.00

Provincial Top Ad: Cambridge
11/05/2022
Apex Cycle 1-888-702-4150 Visit our showroom for a huge selection of the brands you love, conveniently located off the 401 in Cambridge. Price includes all fees - Tax and License are extra. Please ...

$7,200.00
Low mileage 2014 Honda CTX in mint condition. Always stored in a garage.
7,440 km

$7,000.00
Black Honda 1300 VTX with low mileage. Has always been stored in a garage. Comes with a size 42 Honda VTX leather jacket.
20,337 km

$4,300.00
Selling my 2002 yamaha vstar 1100cc 5-speed shaft drive. Bike runs and sounds very nice. This bike has only 29,000km, is in excellent condition, and should require nothing for safety. I'm very ...
29,000 km

$3,100.00
Bought the bike without realizing insurance at my age awesome bike i wish i could keep a bit of a throttle delay (email or message ill give you the rundown)
28,000 km

$12,500.00
This bike is a dream, well taken care of and babied. Great cruiser, amazing sound with the screaming eagle pipes and intake. Never dropped, always stored inside, includes cover. Fresh oil change, new ...
28,398 km

$3,675.00
1984 honda goldwing km 47000 and almost everything has been changed on it . Change of plans now needed anymore. It there if interested
47,000 km

$4,900.00
Bike is really clean and in excellent condition with low milage. Stored in heated garage. Bike only has 10,852 miles and has had regular maintenance done. Some of the many thousands in extras ...
10,852 km

$3,500.00
31k on the odometer of this classic Honda. New tires, chain and sprockets. Carb's rebuilt and balanced at reputable shop. All last year. Fuel tank had a dent that was hidden with bondo, not sure how ...
31,000 km

$15,000.00
2012 Ultima frame Ultima 6 speed transmission 200 series rear tire pro comp rims Avon tires three and a half inch belt drive 45 mm flat side mikuni carb STD cases 121 cubic inch engine remote oil ...
1,000 km
$1,500.00
1974 xs650 Z bars Sporty tank Tons of compression . Ownership in hand
666 km

$5,000.00
One owner. 2011 purchased brand new in 2013. Currently just over 12,000km Service record available. Stored indoors over winter. Helmet, saddle bags, jacket and bike cover included. Asking $5000
12,752 km
Sponsored Advertisements: