Results for "bobber" in Street, Cruisers & Choppers
Showing 1 - 13 of 13 results
---
$10,800.00
Saint John
< 20 hours ago
2019 Triumph Bonneville Bobber, Fuel injected, 1200 cc, 6 speed. Like new only 7828 kms. 1 owner, bought new last summer. Factory warranty till July 2022. $10800 Phone or text 506-467-1663 Financing ...
7,828 km

$250.00
OEM 1998 Harley-Davidson sportster in great condition. Was for a bobber bike project. 250$

$6,500.00
1977 Harley davidson ironhead sportster beautifull bike. Original bike not made as a bobber ..orignal motor and frame ..in good running condition $6500.00
12,345 km

$1,000.00
Looking to sell my bobber New grips New bars New wiring All switches have power Needs finished
21,000 km

$1,600.00
1972 triumph Bonneville bobber project, new hard tail paid $750 for , rear 16" Harley wheel laced to a triumph hub. The bad is the motor needs to be rebuilt and i don't have the registration for It.
12,300 km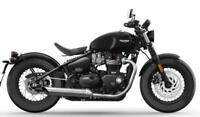 $15,250.00

2022 Triumph BONNEVILLE BOBBER With peerless iconic authenticity and modern capability, the Bonneville Bobber delivers the absolute best of the previous generation Bobber and Bobber Black combined - ...

$400.00
I have a 1980 Honda Gl1100. It was an interstate model, but then I took off the fairings and went for more of a bobber look. It needs a starter solenoid, (has to be started by shorting the connection ...
31,000 km

$4,000.00
08 1100 Yamaha VStar Bobber No short cuts on the Bobber build All bobber parts are from Blue collar bobber plus more little goodies NO TRADES. No Tire kicker Serious inquiries only Reson for selling ...
33,500 km

$16,500.00
Brand new Condition Only 2973 kms Upgraded Track Slip on Exhaust Extended warranty 84 months
2,973 km

$2,400.00
1982 Kawasaki KZ440 Bobber. Parallel Twin, Twin Carb's, 6 speed, Belt Drive. Daily Driver. I have all the part's taken off from when I converted it to a bobber. $2400 txt or call 850-0881
123 km

$4,500.00
1100 VStar Bobber No short cuts on the Bobber build Bobber parts are from blue collar bobber and lots a little goodies $4,500 No Trades. No Tire kickers only Serious buyers
33,500 km

$1,000.00
For sale is my 86 virago 700 bobber project. Well over 1200$ in new parts that I've bought for it and countless used. There isn't a single spot of rust on the bike, frame was powder coated and ...
123,456 km

Swap / Trade
Have a 99savage 650ls no papers but checked and has a clean title. Has brand new front and rear tire brand new battery brand new black drag bars LED signal lights Solo seat. Needs a good carb ...
36,000 km
Sponsored Advertisements: