Results in Street, Cruisers & Choppers
Showing 1 - 9 of 9 results
---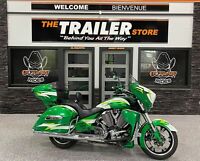 $17,995.00

2012 Victory Cross Country in excellent condition with very low mileage, if you're looking for a Cross Country AND a show bike this is definitely THE bike for you Financing Available 1731cc 42000km ...

Please Contact
1500 golwing. Please contact Albert. 506-523-5042
90,000 km

$12,500.00
Excellent condition needs nothing , runs strong and sounds even better. The odometer is in miles not kms If this ad is here it's still available. Asking $12,500
36,000 km

$3,000.00
Honda Shadow 1100 66000kms New paint, new back tire, new battery, new pipes. Comes with original pipes as well as a set of cobra pipes. Comes with a windshield and leather saddle bags.
66,000 km

$16,800.00

2022 Triumph Scrambler 1200 XE Matt Khaki Green Matt Jet Black The ultimate Scrambler, and the real deal for road and full-on off-road adventures. The new 1200 XE has the capability to take the rough ...

$2,600.00
Very good condition -bike needs nothing, turn key. -Perfect Starter bike, easy to ride. -only 12 000 miles
20,000 km

$9,500.00
Super Glide 1450cc 88ci Hypercharger air intake with k&n filter Custom airbrushed paint on wide glide style body panels Wide glide front forks 14" apes and also a set drag bars Sissy bar back rest ...
59,000 km
Sponsored Advertisements: