New & Used in Street, Cruisers & Choppers in Sarnia Area
Showing 1 - 5 of 5 results
---

Please Contact
2003 Kawasaki Vulcan 1600 Classic! Very clean excellent touring motorcycle! I DO HAVE A VIDEO OF IT RUNNING!! Also has full winshield on now! Only 19,500 miles!! Was safetied last July. Has highway ...
19,600 km

$2,500.00
1997 Kawasaki Vulcan 1500 Classic ***Project bike*** Bought bike as a project and lost interest and now another project is in the works. I haven't had bike on road to test clutch/transmission. Carb ...
52,979 km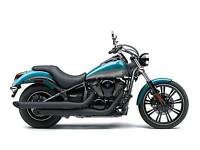 Please Contact

2022 Kawasaki Vulcan 900 Custom ON ORDER The 903cc V-twin powered Kawasaki Vulcan 900 Line models have all the style and attitude of a one-of-a-kind build. From the detailed paint job to the intense ...

$35.00
This is an unused OEM air filter for the Kawasaki KZ 1000 models of about 1980. A bargain at $35 Can ship at your cost
1,200 km

$3,800.00
2004 Kawasaki Vulcan Classic 800CC engine. 5 speed manual gearbox. 63,608Km's. Oil changed every 5,000 Km's with complete inspection at my mechanic. Only used Motul full synthetic. This is a very ...
63,608 km
Sponsored Advertisements: