New & Used in Street, Cruisers & Choppers in Sarnia Area
Showing 1 - 7 of 7 results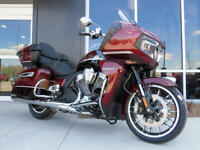 $40,689.00

Provincial Top Ad: Cambridge
14/05/2022
Apex Cycle 1-888-702-4150 Visit our showroom for a huge selection of the brands you love, conveniently located off the 401 in Cambridge. Price includes all fees including Indian's temporary logistics ...

Please Contact
2003 Kawasaki Vulcan 1600 Classic! Very clean excellent touring motorcycle! I DO HAVE A VIDEO OF IT RUNNING!! Also has full winshield on now! Only 19,500 miles!! Was safetied last July. Has highway ...
19,600 km

$5,100.00
Safetied and new tires last year but not ridden. Low Kms 15,373 , great shape. Good bike for a beginner.
15,373 km

$3,800.00
Low KM's, only 14000! Bike is in excellent shape. 2000 Honda VT1100C Shadow Sabre. Last owner had full service done in 2016, has sat ever since. Tank was lined in 2016, perfect condition. New gel ...
14,468 km

$14,000.00
Softail based Pro Street Rocket. Has S+S full custom engine compression release S+S 640 cam Mikuni HSR45 carb Baker 6 speed, RHD, Fat 330 rear tire, M109R dual disk front end, 3" BDL Top Fuel Belt ...
10,000 km
$6,500.00
2017 Honda rebel for sale. As is where is. Runs great. Perfect bike for a beginner. Only selling as I am no longer able to ride due to health. Great little bike Text or message preferred.
4,000 km

$6,500.00
Vintage Yamaha in excellent original condition. Single cylinder kickstart only. Has compression release. Bike runs and rides great and everything works as it should. Bike is driven occasionally and ...
18,600 km
Please Contact
Big weels. Big apes. Road king front end 96 in BB 2015 SHOVELHEAD S&S CRATE MOTOR. Loaded with solid roller jims. Conversion cam kit. 6 speed ultma 3 in BDL. BELT DRIVE. had fish tail exhaust. Single ...
79,995 km
Sponsored Advertisements: