Results in Street, Cruisers & Choppers
Showing 1 - 8 of 8 results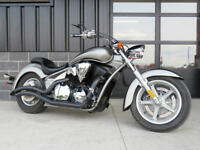 $8,995.00

Provincial Top Ad: Cambridge
24/08/2021
Apex Cycle 1-888-702-4150 Visit our showroom for a huge selection of the brands you love, conveniently located off the 401 in Cambridge. Finance at $106.22 bi-weekly!* Click "Get Financing" to see if ...
15,524 km
$4,800.00
St. Catharines
< 11 hours ago
This is a 2007 Kawasaki Vulcan Cruiser Tourer 1600cc. water cooled V-twin , Black and titanium , Floor boards front and back, crash guards front and back , fuel injected throttle bodies , single ...
107,000 km
$2,500.00
St. Catharines
15/09/2021
RARE 1982 Only year of the cb450t. Cosmetically not perfect but Runs likes dream. 6 speed transmission. Does 90 mph or 150km/h Light and nimble with zero limitations. Comes with rear luggage rack, ...
123,456 km
$13,500.00
St. Catharines
13/09/2021
New tires brakes timing idler all original tires brakes at 50% always maintained tones of genuine Harley chrome all original parts AquaticAV Bluetooth stereo 6 speakers screaming eagle exhaust ...
68,000 km
$5,500.00
St. Catharines
22/08/2021
I am selling a 2002 Harley-Davidson 883 Hugger. Runs perfect. Everything works as it should. New tires. Fresh paint. Only 22000 km's. Aftermarket grips, luggage rack, bars and license plate bracket. ...
22,427 km
Swap / Trade
St. Catharines
17/08/2021
2018 Honda rebel 300 I'm the 1st owner bought it brand new out of dealership. Great bike. Has never let me down have done regular mateniance per owners manual. Have lots of aftermarket parts. ...
31,000 km

$13,500.00
St. Catharines
08/08/2021
Beautiful and well maintained Harley Davidson softail deuce anniversary FXSTDI, fuel injected . Stored in heated garage. Extra chrome added all over. Vance and Hines after market exhaust pipes. Has ...
9,300 km
$2,500.00
St. Catharines
06/08/2021
NEW PRICE Motivated senior cannot ride any longer. Hardly used, garaged, showroom condition, automatic, cargo trunk can be added. Use it to store helmet securely or hold cargo or groceries. Beautiful ...
20,000 km
$10,500.00
St. Catharines
05/08/2021
100th anniversary HD wideglide Lots of modifications 88ci with factory chrome Will entertain maybe part trade for something interesting
52,821 km
Sponsored Advertisements: