New & Used in Street, Cruisers & Choppers in Woodstock
Showing 1 - 6 of 6 results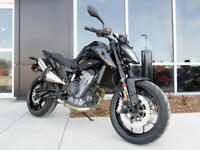 $13,562.00

Provincial Top Ad: Cambridge
11/05/2022
Apex Cycle 1-888-702-4150 Visit our showroom for a huge selection of the brands you love, conveniently located off the 401 in Cambridge. Price includes all fees - Tax and License are extra. Please ...
$8,500.00
2004 Harley-Davidson Fatboy 88 cubic inch 5 spd 1450cc 72424 km LED taillight Lay down plate Newer tires Lots of chrome Chrome flame skull Harley-Davidson rims 2 up seat Many extras Used vehicle ...
72,424 km
Please Contact
If the ad is posted, it's still available. 1958 Harley Davidson ironhead Sportster. Kick only. About 3500 km on a recent engine rebuild. Runs and rides as it should. It's a daily rider. Just looking ...
12,500 km
$6,000.00
2006 Yamaha Roadstar 1700 midnight special Xtra chrome New battery, tires Tachometer Hard bags Asking 7500 Excellent condition
44,000 km
$4,500.00
This bike has lots of zing and is fun to ride. I added new Spitfire windshield and highway bars for extra comfort. Super clean and maintained. I am selling it because I am moving to a bigger bike. ...
2,073 km
$4,000.00
I have a excellent condition 1987 virago with low low km only 29k. I've had bike for almost 10 years, new front tire a couple years ago, still looks new. New battery last year. Always garage stores ...
29,148 km
$2,000.00
Good condition soft saddlebags new battery
57,000 km
Sponsored Advertisements: