Results for "motorcycle" in Touring
Showing 1 - 8 of 8 results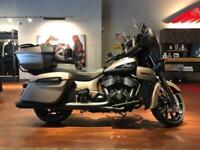 $38,749.00
Provincial Top Ad: Oakville / Halton Region
16/10/2021
GORGEOUS.... and AVAILABLE! 2021 Indian Motorcycle® Roadmaster® Dark Horse® Bronze Smoke Features may include: LOADED IN BLACK With its harder edges, sharper lines, and blacked-out design, the fully ...
Peak Powersports - we're riders too!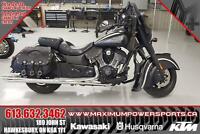 $16,999.00

2016 Indian Motorcycle ROADMASTER DARK HORSE EDITION 45.46$ semaine (120 mois @ 6.99% + tx) Repoussez les limites de ce que vous pouvez faire, d'où vous pouvez aller, et de la vitesse avec laquelle ...
Live Life to the MAX
23,863 km

$28,500.00

BRAND NEW WITH 5 YEAR WARRANTY. OFFER EXPIRES AT THE END OF JUNE. PRICE INCLUDES ALL FEES EXCLUDING TAXES AND LICENSING Buy with confidence when you purchase a pre-owned motorcycle from Powersports ...

$3,250.00
Goldwing Touring Motorcycle, 1500 cc, 1996 model year with odometer reading 89550 miles. Bike is fully equipped including am/fm cassette with belkin mp3/cd adapter , CB radio and intercom system with ...
140,000 km

Please Contact
I am looking for a pre 1969 BMW /2 series motorcycle (Without Engine) Prefer complete (less engine /gearbox) Prefer Earls fork front end. Some missing parts/pieces is ok. I have a Complete R90/6 ...
12,345 km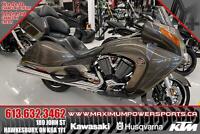 $9,999.00

2012 Victory Motorcycles VISION TOUR ABS VISION TOUR ABS 106CC Venez nous voir pour véhicules, pièces, accessoires et vêtements aussi! BON CRÉDIT OU MAUVAIS CRÉDIT VOUS ÊTES APPROUVÉS. Certaines ...
Live Life to the MAX
75,302 km

$3,500.00
2007 Honda Shadow in very good shape with many extras new back tire this year 3500 o.b.o
21,000 km

$10.00
This 96 page, hard cover book was produced by BMW in 2011, is in pristine condition and focuses on the then current range of motorcycles. It will appeal to BMW aficionados.

$12,500.00
Top of the line Honda Gold Wing Motorcycle for sale. Air bag, updated custom Corbin seat included. Great condition, low mileage, asking $12,500.
72,000 km
Sponsored Advertisements: