Results in TVs
Showing 1 - 10 of 10 results
---

$180.00
TV with mounting bracket. Specs can be viewed here: https://www.cnet.com/products/toshiba-la4200u/

$70.00
scratch on screen as shown in picture, does not effect the display. specs can be found here: https://www.cnet.com/products/proview-pa-32jk1a-32-lcd-tv/

$100.00
I just bought this but can't connect it to Cogeco. Straight out of the box condition

$50.00
32 Inch Sony TV. No remote. Good condition. Available for pickup or delivery in Belleville.

$399.00

Shipping by seller
Condition: Used - Grade AA+ Warranty: 3 Months Order Online: https://qtronics.ca/en/items/194/panasonic-pt-vw330-lcd-projector Panasonic PT-VW330U Projector Specifications: White Brightness: 3,000 ANSI Lumens Resolution : 1280x800 Aspect Ratio : 16:10 (WXGA) Contrast: 2,000:1 (full on/off) Display Type: 2 cm 3LCD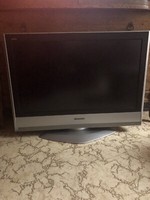 $175.00
Panasonic Viera LCD for sale. Buttons on top don't function but, tv works well with remote. Has one HDMI port and cable tv connection. Was keeping it for a spare but, need the space. I have the ...

$175.00
VIZIO DOLBY DIITAL - 32 INCH- CDTV - NEW CONDITION-- BOUGHT TOO BIG FOR SPECIAL PLACE TO PUT IT---- COMPLETE HD--in Belleville I would deliver-OPEN FOR OFFER
$180.00
Grandpa used this for about two months., 1 owner. Was given to me by relative but already have tv in house. Clean no scratches comes with cable cords HDMI cords and converter. ...

$100.00
Hardly used, wall mounted and in running order so you can see that it works, stand is included, must bring someone to help take it down and carry out.
Sponsored Advertisements: