---

$120.00
AV input 3xHDMI Stationary wall mount included. We threw out the base a few years ago so is not able to go on TV stand. Remote included. Not a smart tv. TV is heavy. For questions or to arrange ...

$10.00
Older Style- Good for gaming TVs for kids. $10 each
$650.00
4k uhd carved smart TV, it was in my bedroom and didn't use it for most of the time. Highest picture quality from Samsung. Very lightly used, like brand new. It's still one of the best picture ...
$75.00
Good working condition, no longer use it just takes up space. $75obo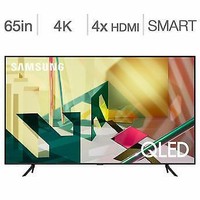 $749.99
4 Locations to Serve you! S.W. - 403.454.0044 - Openbox Aspen N.W. - 403.453-6716 - Openbox 16 Ave S.E. - 403.253.7955 - Openbox Macleod N.E. - 403.250.7767 - Openbox Sunridge STORE HOURS Monday to Saturday: 10am to 6pm Sunday & Holidays: 11am to 5pm 55" SAMSUNG QN55Q70T - QLED Equipped with Quantum Dot Technology,

$660.00

LG 49NANO86UNA -- $660 (Tax included) Condition: Factory Refurbished Overview LG NanoCell produces true colours by applying about 1nm-sized nanoparticles to filter out dull colour. It delivers stunning visual immersion. It's a 4K picture that defines quality. Over 8.3 million active pixels of 4K deliver 4 times

$399.00

Condition: Used - Grade AA+ Warranty: 3 Months Order Online: https://qtronics.ca/en/items/194/panasonic-pt-vw330-lcd-projector Panasonic PT-VW330U Projector Specifications: White Brightness: 3,000 ANSI Lumens Resolution : 1280x800 Aspect Ratio : 16:10 (WXGA) Contrast: 2,000:1 (full on/off) Display Type: 2 cm 3LCD

$1,600.00

You can order from our website www.kjdist.ca then we can ship it! LG OLED55CXPUA -- $1600 (Tax included) Condition: Factory Refurbished Overview Once you've seen LG's ultra-high definition OLED TV with your own eyes, you'll understand the hype. It's a stunning picture that redefines quality. Millions of OLED pixels
Sponsored Advertisements: