NEW NIB MASTER REPLICAS DARTH MAUL DOUBLE LIGHTSABERS SW-214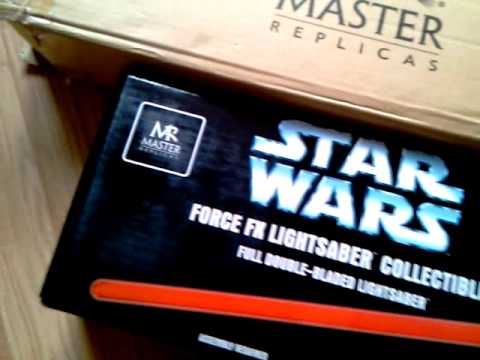 More Info

Collectible Toys & Games
Description
WELCOME STAR WARS COLLECTORS!
ARE YOU LOOKING FOR LIGHTSABERS FOR GIFT OR YOURSELF?
NEW ADDITION TO STAR WARS WAS "THE LAST JEDI" RELEASED ON DECEMBER 15TH, 2017.
BRAND NEW IN A SHIPPING BROWN BOX WITH WHITE LABEL NEVER OPENED AND BLACK ORIGINAL PRESENTATION BOX.
THIS IS THE LAST CHANCE TO OWN ONE NEVER OPENED.
History:
Since Master Replicas released the very first Force FX Lightsaber in 2002, fans have been clamoring for a Darth Maul Double Force FX Lightsabers and rest of Star Wars characters. Unfortunately, Master Replicas' team of product designers and engineers have been unable to fit all of the necessary light and sound technology in place to create a "realistic" Darth Maul FX Lightsaber that would live up to the standards of its predecessors – that is, until now! With recent breakthroughs in Force FX technology, they are pleased to announce that this Darth Maul Force FX Lightsaber has become a reality! Lucas film granted Master Replicas engineers access to the ILM computer files and reference images, allowing for the creation of the most authentic, realistic Force FX lightsaber possible. Force FX which measures 44 inches And of course, the Darth Maul Force FX features:
• An enhanced glowing red blade with realistic power-up and power-down light effects. The power-up and power-down light effects are produced by a string of 64 super-bright LEDs that ignite sequentially inside the blade.
• Five motion sensor controlled sound effects digitally recorded from the movie: power-up, idle hum, swing, clash, and power-down.
• 3 built-in motion sensors for super sensitivity: 2 for detecting movement and 1 for detecting the impact of the blade.
• A durable metal hilt looks and feels like a real lightsaber.
• A sturdy blade is permanently attached to the hilt.
-Takes 3AAA batteries X 2 lightsabers =6 AAA (not included).
-Brand new never opened in original shipping Master Replicas box.
Add these collectable weapons to your collection today.
Demand is HIGH and this is LAST UNIT LEFT.
Price is LOW compared to E-BAY and other retailers, USA Dollar is around $1.40 CAN + YOU have to pay for shipping, duty, tax, brokerage fee. Welcome International buyers! Please Note: Only confirmed and verified Pay-Pal addresses will be accepted.
We can ship to Canada, U.S and Worldwide...
THANK YOU FOR LQQKING
MAY THE GOD BE WITH YOU
HAVE A BLESSED DAY!
Take steps to make your Kijiji transactions as secure as possible by following our suggested safety tips.
Read our Safety Tips