Snowmobile/ATV Trailers (folding) New 4'x8', 5'x8' Galvanized
Posted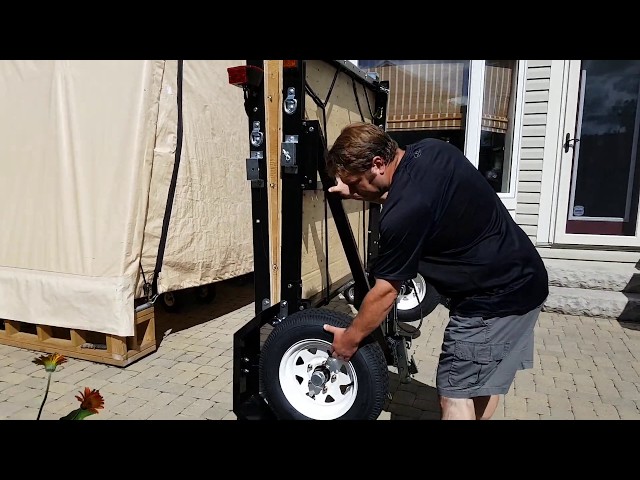 Description
We Offer Contactless Purchase and Pick-up' 'We ship and can deliver' The most heavy duty, light weight trailers; easily towed by smaller vehicles. Trailers are suitable for highway use. Assemble yourself by use of our assembly video and save money!
We are located in Milton Ontario, or Burlington Ontario
Please call or text for an appointment ahead of time, our hours are flexible Jeff at 4169128413
Flat Bed 2000 lbs gross Capacity Folding Trailers (kits) New (unassembled), assembly and accessories can be purchased.
'Our current promotion is upgrading customers to the superior galvanized finish for the low price of black'. You also receive a set of 2 fender bracket upgrades to adhere from the front end of each fender to the trailer frame; reduces fender fatigue and breakage. We are fully stocked!
4'x8' Folding Trailers: $889.38 + HST=$1005 • 4'x8' Rust Resistant Hot Dipped Galvanized 'has a true 4'x8' bed size'
5'x8' Folding Trailers: $1000 + HST=$1130 • 5'x8' Rust Resistant Hot Dipped Galvanized 'has a true 5'x8' bed size'
Folding Trailers Details: 2000 lbs gross capacity 4'x8' towing capacity approx. 1750 lbs 5'x8' towing capacity approx. 1735 lbs Trailer weight 4'x8' 250 lbs, 5'x8' 265 lbs
What our Trailers come with: FENDER BRACKET UPGRADE KIT (NEW) 12 inch, 5.3 inch diameter, 1050 lbs capacity a tire LED lights (exclusive upgraded electrical and grounding available ) 3 leaf springs suspension Bed tilts to ground for easy loading 4'x8' Folded: approx. 6' tall, 2' deep, 6' wide 5'x8' Folded: approx. 6' tall, 2' deep, 7' wide Trailer rolls on permanent swivel castor wheels 2 inch ball is required, and 4 flat connector Basic tools required for assembly
4'x3' 8/16" Trailers: $619.47 + HST=$700 • 4'x3' 8/16" Rust Resistant Hot Dipped Galvanized 'has a true 4'x3' 8/16" bed size'
Galvanized Boat Trailer w/winch $1102 + HST=$1245 1200 lbs capacity (weighs approx. 230 lbs) Towing capacity approx. 970 lbs 12 inch, 4.8 inch diameter, 785 lbs capacity a tire LED lights (exclusive upgraded electrical and grounding available ) 2 inch ball is required, and 4 flat connector 3 leaf spring suspension Free winch Basic tools required for assembly
Fits many personal watercraft up 13.5'-14' long (depends upon style of boat) see website for more details www.diyfoldingtrailers.com All of our trailers come with all of the proper paperwork (Bill of Sale and NVIS) to license your trailer; all taxes and tariffs paid in the price of the trailer, you just pay for your plate (under $100) at the MTO. Our trailers meet or exceed all necessary requirements needed to obtain proper ownership and title from the Ministry of Transportation. *C.S.A and D.O.T compliant.
Trailer Accessories: If someone can beat us on price, we don't sell it! We pride ourselves in great value…trailer accessories well suited for our trailers with best price, quality, and safety in mind! We offer a full range of trailer accessories such as: upgraded grounding electrical kit, zinc coated/nylon lock nut floor hardware kit, coupler swivel jack, d-rings for strapping your load, anchors to keep the trailer closed for when storing, coupler lock, motorcycle wheel chocks, ramp ends, rubber stoppers to protect the underside of your trailer for tilt to ground, a watercraft hardware kit to mount your watercraft on the flat bed trailer for ultimate versatility, side wall accessories and wood kits and much more……!
Please call or text for an appointment ahead of time, our hours are flexible Jeff at 4169128413
Our trailers are used for: Utility purposes such as transporting things like dry wall, lumber and anything you can think of, and hauling dirt bikes, motorcycles, ATVs, boats, kayaks, snowmobiles, sleds, skidoos, seadoos, tear drop trailers, and much more!
For a free on-line quote (use a PC) that you can create yourself visit www.diyfoldingtrailers.com www.diyfoldingtrailers.ca
We have assembly videos: www.diyfoldingtrailers.com/assembly
Folding Trailer Attributes: Tilts to ground, foldable, when folded is 6' high from ground which makes it easily storable in low ceiling spaces, folds onto permanent movable castor wheels for easy transport. Made of heavy-duty steel frame with curled edges and solid axle for added strength; coatings are very durable. When folded up, water rolls off this trailer so to avoid excess rust. Takes up just only 2 feet of depth of space when folded, Heavy-duty 3 Leaf axle springs for heavy loads, frame has built-in stakes for sidewall assembly.
Build Yourself: We have a step-by-step trailer assembly video and PDF version if you prefer, see how easy assembly is before you purchase www.diyfoldingtrailers.com/assembly. Minimal tools needed for assembly: socket set, wrench, screwdriver. Takes about half a day or less to assembly depending upon skill level. We do provide over the phone support when necessary.
Purchase Assembly: For a fee our certified Mechanical Technologist ensures a great assembled trailer. Comes with a completely assembled frame with all the proper torquing and tire pressure! We insist that you also purchase our electrical upgrade, to ensure fool proof grounding of all lights back to the electrical source; not just that but this professional solders all seams with marine grade heat shrink and wraps the wires in plastic sheathing to protect the wires from the elements and is carefully adhered to the trailer frame with hangers which allows enough slack to fold the trailer properly.
Contactless Pick-up in Milton or Burlington or have it shipped to your preferred location: Please call ahead of time and book an appointment to come out and see our assembled displays and pick-up the trailer if you desire with no contact. The unassembled trailers will fit in any small compact vehicle with the seat folded down. We will load the boxes and accessories into your vehicle for you. Alternatively, you can call or text with your postal code for a shipping quote.
We check every box for components prior to every sale, to ensure you are getting what you paid for.
Methods of Payment: Cash, e-transfer (sent prior with a unique password provided at pick-up), debit, and credit card (3% processing fees charged by the credit card companies).
Commonly Asked Questions:
Q: Does the trailer come assembled? A: No, it does not. This is a complete trailer kit that is ready to be assembled. Assembly available ask for a quote.
Q: Does the trailer come in a box? What is the size of the boxes of the trailer kit? A: There are 3 boxes with dimensions of:
4'x8' Folding Trailer Boxes: Box A: 62" x 10" x 5" :106 lbs Box B: 51" x 8" x 5" :78 lbs Box C: 27" x 23" x 12" :102 lbs Note: I have loaded these into many compact cars. If you can fit a hockey bag and sticks, you can easily fit this trailer kit.
5'x8' Folding Trailer Boxes: Box A: 74" x 10" x 5' :106 lbs Box B: 62" x 7" x 5" :82 lbs Box C: 27" x 23" x 12" :102 lbs
Boat Trailer Boxes: Unfortunately, we can't ship the boat trailer since the boxes are too large and flimsy. We will open the boxes and show you the quality of the product and load each piece is loaded into your vehicle.
Q: How long does it take to assemble? A: It takes about half a day and sometimes less (depending on your skill level and the tools that you have)
Q: Where are you located? A: Milton, Ontario (James Snow and 401) Q: What forms of payment do you accept? A: Cash, E-Transfer, Debit and Credit Card (3% convenience fee for credit card use)
Q: Is the trailer still available? A: I always have trailers in stock.
Q: How does the tilt feature work? A: With the removal of quick release pins on the trailer's 'A ' frame, the trailer can be easily tilted for loading. This will work with or without the trailer attached to your vehicle.
Q: Do you have a trailer that I can view? A: Yes, I have trailers available to view.
Q: What are your viewing hours? A: By appointment; we are flexible. Please call, text or email.
Q: What receiver ball size does the trailer require? A: The trailers require a 2" diameter ball.
Q: Will you get me my trailer license? A: No, you will need to make arrangements to visit the Ministry of Transportation (MTO); it is a straightforward and simple process. I provide you with all necessary LEGAL documentation; I can explain the process and guarantee that there will not be any headaches for you. You have the option to pay for the trailer and take the paperwork to the licensing office during business hours and come back with your plate so you can drive away with your assembled trailer.
Q: What are my costs to purchase my license plate at the licensing office? A: The cost to purchase your license plate at the licensing office is approx. $65. You show your official NVIS and Bill of Sale documents (that we provide to you) and you purchase your plate hassle-free from the licensing office. All of the taxes and duties for the trailer have already been paid when you purchase the trailer from us. Make sure that the MTO only charges you for your license plate.
Q: What is the trailer size when folded? A: The bed size of the folding trailers are a true 4'x8' and 5'x8' deck size, with approximately 1" on either side to the fender. However, we have a side rail kit that allows you to build the trailer walls to the outside of the trailer bed; so you can utilize the full bed size to transport your load. You can further reduce the trailer's footprint by removing the trailers' wheels and/or tongue assembly. There are many options.
Thanks Jeff (416) 912-8413 email: sales@diyfoldingtrailers.com
Shipping and taxes apply .
. . . . . . . . . . . . . . . . . . . . . . . . . . . . . . . . . . . . . . . . . . . . . . . . . . . . . . . . . . . . . . . . . . . . . . . . . . . . . . . .. . . . . . . . . . . . . .
.
.
. .
.
.
.
.
.
.
.
.
.
.
. . . .
. . .
.
folding boat trailer, folding utility trailer, dirt bike trailer, fold up boat trailer, folding trailers for sale, fold up utility trailer, foldable trailers, utility trailers for sale, boat trailers for sale, folding trailers, fold-up trailer, flat deck trailer, galvanized trailer, galvanized folding trailer, galvanized utility trailer, ATV trailer, quad trailer side by side trailer, sled trailer, skidoo trailer, seadoo trailer, Remorque utilitaire, stinger, freedom, muddy, dk2, u-haul, canadian tire, princess auto, tsc, costco, apogee, freedom
Take steps to make your Kijiji transactions as secure as possible by following our suggested safety tips. 
Read our Safety Tips