Best Bottom Starter Pack - Cute Cloth Made Easy!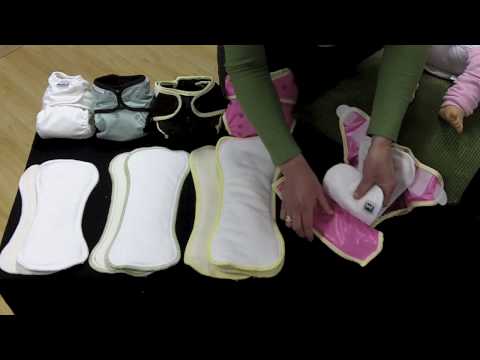 Description
Diapers are expensive. You can expect to spend around three THOUSAND dollars on disposable diapers from birth to potty learning. Or you can save a lot of money and save the environment, too! Cloth diapers are an economical and ecologically friendly option.
http://www.cozybums.ca/Best-Bottom-Starter-Kit_p_54.html
This Best Bottom diapers package deal will give you the best bang for your buck without a large commitment! Purchasing a package makes it easy for you to get started on you cloth diaper journey! It includes:
3 Best Bottom shells 9 stay dry inserts Choose to upgrade your inserts to bamboo, hemp, or bamboo stay dry! The perfect package to test out Best Bottom or supplement your stash! And it's 5% off of regular retail price!
Choose your favourite colours and prints so that you can have the adorable diapers that you love.
We recommend 3 snap-in inserts for each shell. You will save money on the Diaper Shells, because they can be wiped clean and reused - so you won't need as many of them!
Best Bottoms Diapers are all new All In Two diapers! The Best Bottom Diaper has all the pros of the different diapering systems and has eliminated the cons. So Best Bottoms Diapers are very trim fitting, extremely absorbent and one of the most economical diapering systems available! The snap-in inserts eliminate the need for stuffing but still give a fast drying time. The inserts are available in 3 different sizes and several different materials, so you will be able to use the one that is just right for your baby. This makes Best Bottoms super trim!
Best Bottom Diapers are so easy to use!! First adjust the front snaps for the rise to get the right size for your baby. (You do not need to unsnap the rise snaps when washing. Just adjust them once and you are good to go until your baby grows!) Then snap in the insert, put the diaper on your baby and go! When you need to change your baby, just snap out the soiled insert and snap in a clean one. Because the inside of the Best Bottom shell is wipe-able, it can be used over and over before washing. You may want to air-dry between uses but that may not always be necessary. Because you can reuse the Best Bottom shell, you won't need to buy as many. With pocket diapers, all in one diapers and fitted diapers, you will need to change the whole diaper every time! When it is time to wash your Best Bottom Diapers, you will only be washing inserts and a few shells - this takes up much less space!
The Best Bottom shell fits from birth to 35+ pounds. There are leg gussets to help keep the messes in, an adjustable rise with four settings, and overlapping snap closures. When putting the diaper on your baby, check to be sure the insert is completely in the shell - just pull the leg gussets out around your baby's legs.
Cozy Bums Diapers is your Canadian cloth diaper source and has been operating from Prince George since 2007. We offer one of the largest selections of cloth diapers in all of Canada! Our product knowledge is second to none: we're happy to help support you in every step of your cloth diapering journey! We also offer free shipping within Canada on orders over $99... so this package will ship to you for FREE!
http://www.cozybums.ca/Best-Bottom-Starter-Kit_p_54.html
Take steps to make your Kijiji transactions as secure as possible by following our suggested safety tips.
Read our Safety Tips