"DITRON DIGITAL READOUT 3 AXIS FOR MILLS & LATHES, FROM $699"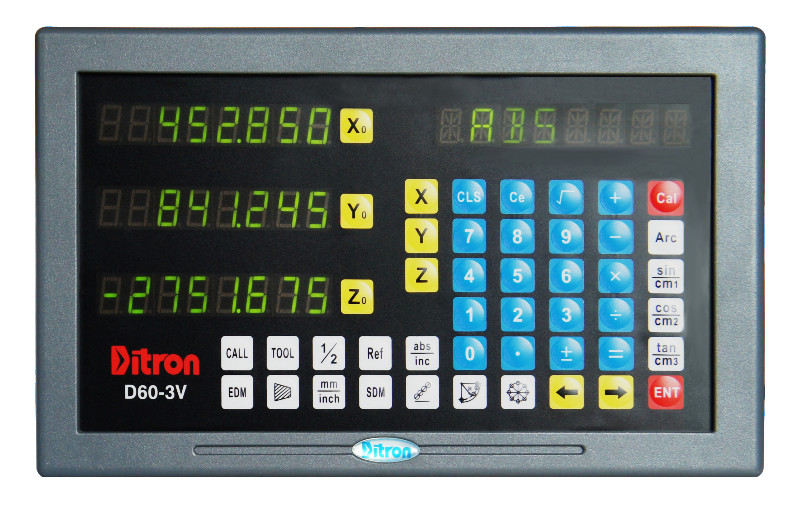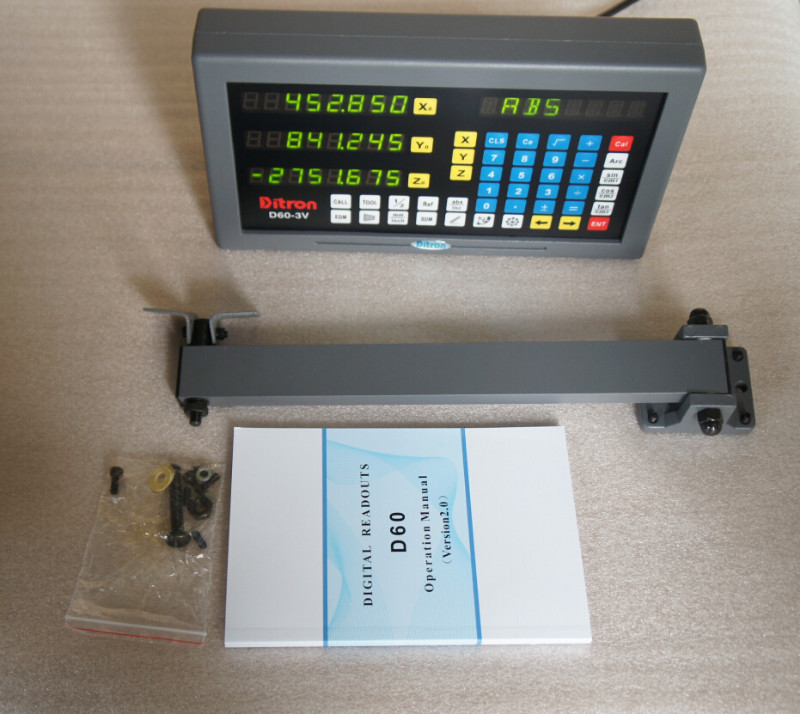 More Info

Industrial Items
Description
DITRON DIGITAL READOUT 2 AXIS FOR MILLS & LATHES, FROM $699 With this set you get a multifunction digital readout which can be used in mills, lathe, EDM or grinder with a very simple programing changes
DIGITAL READOUT SYSTEMS 3 AXIS FOR MILLS, LATHES, EDM & GRINDERS FROM $699 for a complete set including THREE linear glass scales, dust covers, manuals, supporting arms and installation hardware. The best quality and design in the market.
STURDY DESIGN, ALUMINUM ALLOY BACK COVER
Can ship anywhere in Canada and USA
We offer brand new digital readouts systems Ditron for milling machines, lathes and a wide spectrum of metal and wood shop equipment in two, three or four axis applications. This sets includes scales with .005 UM resolution, .001 UM resolution scales available for a premium. Also available magnetic scales sets
LINEAR SCALES :
This set includes 3 precision glass linear scales, up to 1000mm (40") of travel. Scale size is based on a maximum travel distance, not overall length. Overall length is about 5.5" more. Our scales are fully enclosed and protected from chips, dust, oils and coolant spills. They are made of anodized and chrome plated aluminum for ultimate corrosion resistance. All sizes listed below are now in stock, for fast shipping.
ALSO AVAILABLE MAGNETIC SCALES SETS FOR USE WITH THE SAME SYSTEMS.
FOR LATHE PLEASE CALL WITH YOUR SCALES LENGTHS THAT EXCEED 40" OF TRAVEL, ME SELL MOST LENGTHS FOR MOST BIG LATHES IN THE MARKETS
Here is the list of available travel lengths to choose from:
6" (150mm) of travel 8" (200mm) of travel 10" (250mm) of travel 12" (300mm) of travel 14" (350mm) of travel 16" (400mm) of travel 18" (450mm) of travel 20" (500mm) of travel 24" (600mm) of travel 30" (750mm) of travel 32" (800mm) of travel 36" (900mm) of travel 40" (1000mm) of travel We accept Visa, Master Card and AMEX, Please allow 7 to 10 days for delivery
One year warranty for manufacturing defects. Please call 289 423 6482 in Ontario or e-mail ontfa1@rogers.com We've got hundreds of satisfied customers in Canada and the USA
In stock on/off switch for Bridgeport Mills or most Korean and Chinese mills. Made in Germany replaces the original Cutler & Hammer Price US$169.00 plus shipping You can order by phone. all prices for digital readouts are in Canadian funds. Phone #- 289-423-6483
KEY FEATURES:
- 5 um (0.0002") resolution scales (display supports 0.1-10 um scales as well) - Can be switched between Mill, Lathe, Grinder and EDM - Supports both English and Metric units (in/mm display) - Absolute and Incremental measuring mode - Center line (1/2) function - Sub datum (200 points) - Linear drilling function Mill Mode - Bolt circle (PCD) machining in Mill Mode - Incline and oblique plane machining Mill Mode - Simple and Smooth Radius machining Mill Mode - Asymptotic machining of inner cavity (chambering) Mill Mode - Radius/Diameter function in Lathe mode - Tool compensation with 200 tools library in Lathe mode - Taper function in Lathe mode - Axis summing in Lathe mode - Filter in Grinder mode - Linear and non-linear error compensation - Auto Zero/reference function - Calculator with trigonometric functions - Sleep Mode - Power Off memory - 100-240V, 50/60Hz universal AC power - Mounting Arm and hardware included - ISO 9001 certified quality control, CE certified
Please call ph 289 423 6483
Take steps to make your Kijiji transactions as secure as possible by following our suggested safety tips.
Read our Safety Tips