Value diesel forklift 5000lb, 6000lb, or 7000lb
Posted
Winston Churchill Blvd, Mississauga, ON L5J 4P2, Canada
(View Map)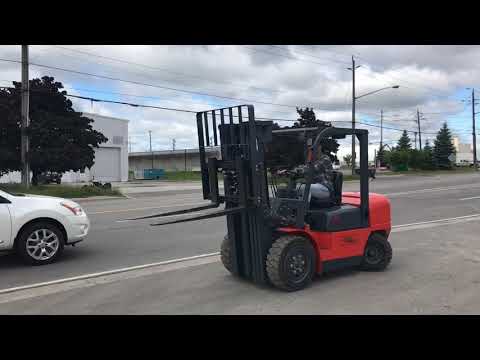 Description
DIESEL, DIESEL, DIESEL!!! - We are now stocking the VALUE DIESEL FORKLIFT. They are available from stock RIGHT NOW!
We can have it delivered to you within a week, if it is in stock, and if it is ordered right now!
Or you can custom place your order with us and get the exact machine you want.
These Diesel forklifts can be custom built to your specifications. You may want a 5000lb, 6000lb, 7000lb or even a 12000lb to 15000lb machine. You dream it, we can build it. You can have 2 stage full free lift that can go as high 118" or a 3 stage that can go as high as 189". You can have any height mast you want. They can come with a side shift, and or with other attachments or modifications to suit your needs. Be it in the fisheries, lumber, oil industry, manufacturing, warehousing, or any other type that requires forklifts, we can match your requirements to build your ideal machine.
These forklifts come with a ISUZU C240 DIESEL or a J4J MITSUBISHI DIESEL workhorse engine (your choice if you order it) and a Heavy Duty transmission and steering axle - These are about the best mated engines and drive lines available anywhere! The ISUZU and MITSUBISHI Diesels are used in numerous applications including marine, so you know that they are well worth it.
Of course, we also stock these machines with a Dual-Fuel Nissan K25 (propane + gas) engine too. We can ship a forklift to you with this engine, and a 189" mast as well. Please let us know which specifications you want. We probably have it in stock, or it may be on the way from the factory right now. Call us, or send a message...
These forklifts are made in the same factory as favorite Japanese forklifts were formerly made. Those forklifts were an industry standard in terms of their ruggedness and reliability. For years they were relied upon to produce the best machines available, therefore you know you are getting a high quality product.
A 5000lbs Diesel with a 2 stage mast and air tires starts at only $21,000 + HST. We guarantee that you will not find a better priced NEW forklift in Canada. The beauty with custom building is that you only pay for what you need, thereby saving your hard earned dollars. Who does not like the idea of saving money!!
These machines come equipped with Air Tires standard, or you can upgrade to solid pneumatic tires for a mere $750.00 + HST if you wish. They have the comfort seats and LED lighting standard equipment, for well lit and comfortable maneuvering.
Yes, we can offer very best flexible and most reasonable lease-to-purchase programs in Canada today, just ask for a quote. With interest rates as low as they are, this is a great time to take advantage...
Please give us a call if you have any questions about specifications etc., please go to www.valueforklift.ca
OUR PLEDGE: ~ "WE WILL GIVE YOU THE BEST VALUE FOR YOUR MONEY - PERIOD !"
We will also get you the best freight rate to your door.
Please call 905-275-8072 ext 2 or 3, any time during the day from 8 am to 5 pm (Ontario time) Mon to Fri.
Thanks for looking!
Take steps to make your Kijiji transactions as secure as possible by following our suggested safety tips.
Read our Safety Tips